Bonifacio Global City (BGC) is finally implementing its one-way traffic scheme today, so don't be caught off guard. I drive my wife to her workplace at Eco Tower (32nd Street corner 9th Avenue) every morning, and it's a good thing we were aware of the rerouting scheme. In fact, we saw a car almost dive into one-way traffic while making a left turn toward her building. Yikes! Good thing there was a traffic marshal who stopped the fellow in time. That would have been a horrible way to start the week. 
According to Jun Galvez, general manager of Bonifacio Estate Services Corporation: "Part of the BGC Masterplan, this efforts is intended to address the large volume of vehicles that go to and pass through the city. This will be implemented in key roads along its city center to help improve traffic flow and lessen traffic congestion."
Here are my thoughts: Traffic flow does seem to move quicker within BGC, and with all of the huge signs set up to indicate one-way and no-left-turn streets, it's fairly easy to navigate (unless you aren't paying attention--like that guy I mentioned earlier). However, I did notice a build up at my entry point at 32nd Street from c5 at around 6:45am. Could it be because of the new traffic scheme? It's too early to say. However, I also noticed that upon exiting BGC through my usual route from 32nd Street toward EDSA, it was smooth sailing all the way. No congestion whatsoever.
ADVERTISEMENT - CONTINUE READING BELOW ↓
Anyway, if BGC is part of your daily Metro Manila commute, please be guided accordingly. Here is a copy of the latest map below: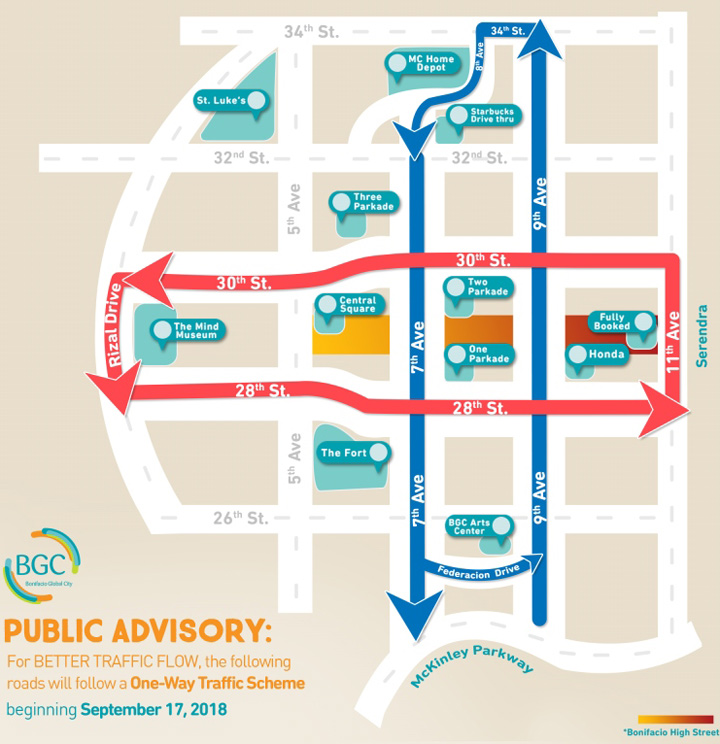 Have a great week ahead!
ADVERTISEMENT - CONTINUE READING BELOW ↓
Recommended Videos