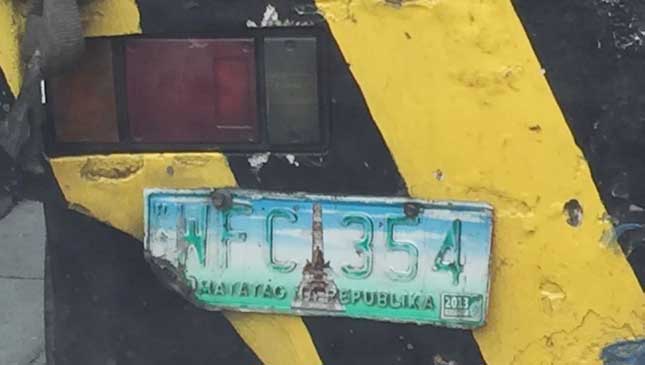 Here's a motoring scenario for you: You're walking back to your car when you see it being towed by suspicious-looking men with a dilapidated tow truck. When you introduce yourself and ask the men to identify themselves, they assure you that they are an MMDA-accredited towing company tasked to rid public roads of illegally parked vehicles. But they won't show you a proper ID.
How do you know they're telling the truth?
Well, we'll help make life easier for you. Here's the list of "MMDA-accredited towing services," as found on the agency's website. If you can't find the tow truck's plate number on this list, do not submit to or cooperate with the "towing personnel." In all likelihood, you're being scammed (or worse, your car is being stolen from you right under your nose).
We just don't know if the list is 100% up-to-date. The MMDA website says this list was updated "as of May 12, 2015." If you check the list, there are only two tow trucks assigned to Arcson Towing Services, the company currently suspended due to the extortion charges leveled against its personnel. The tow truck (AVA-4494) involved in the May 23 incident isn't included in the list. This might simply be further proof that our government agencies are not very diligent when it comes to updating their websites.
Continue reading below ↓
Recommended Videos
The list includes a total of 30 towing companies and 72 tow trucks. Indicated in parentheses are the tow truck numbers assigned to the vehicles. We suggest you print this list, laminate it and keep it in your car's glove compartment. You never know when you're going to need it.
1. Biz Towing Services
* UWM-488 (TT-001)
* TWN-963 (TT-002)
* UWM-361 (TT-003)
2. Amazona Towing Services
* RLV-148 (TT-004)
* TVL-484 (TT-005)
3. JBD Towing Services
* CTM-739 (TT-006)
* GFA-826 (TT-007)
* UEZ-414 (TT-008)
* GGP-701 (TT-113)
4. Fighter Towing Services
* WTR-425 (TT-009)
* XSK-835 (TT-010)
* WFX-640 (TT-012)
5. JAD Towing Services
* ZHD-539 (TT-013)
* TWM-279 (TT-014)
6. Poltin Towing Services
* UWJ-392 (TT-015)
* UWJ-544 (TT-016)
* UWJ-375 (TT-017)
* UWJ-397 (TT-018)
* XJE-704 (TT-019)
7. Mersid Towing Services
* UWL-124 (TT-020)
* UWL-204 (TT-021)
8. NJP Towing Services
* CMX-390 (TT-022)
* TWS-727 (TT-023)
* UVU-106 (TT-026)
* UWM-883 (TT-028)
* UVZ-858 (TT-030)
* UVY-991 (TT-031)
9. JWJ Towing Services
* UWM-606 (TT-032)
* CXE-110 (TT-033)
* CXE-113 (TT-034)
* DSU-812 (TT-035)
10. Express Towing Services
* UVF-991 (TT-038)
* UUD-694 (TT-039)
11. Jwin Towing Services
* UWD-732 (TT-040)
12. Jarz Towing Services
* XFM-169 (TT-043)
13. Metal Gear Towing Services
* TXG-499 (TT-045)
* UVE-641 (TT-046)
* UVF-631 (TT-047)
* UWJ-171 (TT-048)
14. Compaq Towing Services
* UWF-274 (TT-051)
* RJY-549 (TT-052)
15. Blamp Towing Services
* UWM-943 (TT-054)
16. Haplos Towing Services
* CRU-676 (TT-055)
17. JC Towing Services
* UWG-609 (TT-057)
* UWG-424 (TT-058)
18. Borg Towing Services
* TWM-539 (TT-060)
* TWM-867 (TT-061)
19. Accent Towing Services
* TVB-747 (TT-065)
20. DGD Towing Services
* UBL-252 (TT-070)
* WFC-354 (TT-074)
* UUG-559 (TT-078)
21. CDRL Towing Services
* ZDL-451 (TT-119)
22. Lard Towing Services
* WPH-203 (TT-083)
* TXD-177 (TT-084)
* TWT-541 (TT-085)
* TWU-503 (TT-086)
23. Goldwin Towing Services
* WAP-395 (TT-091)
24. ARD Towing Services
* TXG-378 (TT-094)
* UWG-263 (TT-095)
25. Iron Wing Towing Services
* UWG-325 (TT-098)
* UWF-823 (TT-099)
* RNC-957 (TT-110)
* XNR-748 (TT-111)
26. Arcson Towing Services
* UWH-103 (TT-101)
* XGK-634 (TT-102)
27. Aljoy Towing Services
* XRS-743 (TT-104)
28. MGLC Towing Services
* UWL-165 (TT-105)
* XSH-832 (TT-106)
29. Arrom Towing Services
* CTS-241 (TT-108)
* XMD-455 (TT-109)
30. NIB Towing Services
* UGK-945 (TT-112)
* WBJ-942 (TT-114)
Photo from Liz Rivera Banogon