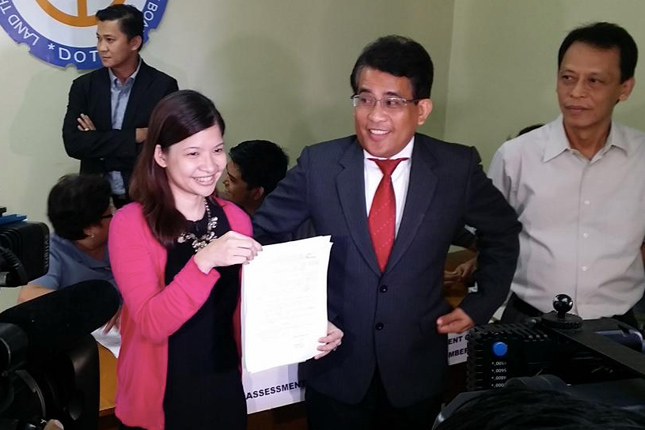 To those afraid of being at the mercy of old, dirty and smelly taxicabs again come August 21st--because of the accreditation deadline imposed by the Land Transportation Franchising Regulatory Board on the popular Uber transport service--we have good news. The LTFRB has just announced that Uber filed its application for accreditation as a Transport Network Company today, or three days before the deadline.
In the photo posted on the LTFRB's Facebook page, chairman Winston Ginez is seen with Uber's legal counsel, Atty. Grace Ann Lazaro, along with papers of application.
A short statement from Laurence Cua, the general manager of Uber's local office, about today's event has also been released (in italics):
Over the past few months, Uber has been preparing our submission for TNC accreditation with the expert guidance of the DOTC and the LTFRB. Today, we can confirm that Uber's application has been submitted and has been well-received by the authorities. Since the beginning, Uber has always had one goal--to provide access to reliable, affordable and safe transportation options anytime and anywhere to all Filipinos at the push of a button, and we look forward to the continued support and leadership of the government of the Philippines in achieving this.
Continue reading below ↓
Recommended Videos
With this positive development, we hope it's all smooth sailing for Uber from now on, as many people have expressed dismay at the thought of this very helpful service being "curtailed." And hopefully, this clears the LTFRB of the suspicion that the government is intentionally clamping down on Uber without reason.
Now, if only the agency can do something about those fatal buses...
Photos from Uber's and LTFRB's Facebook pages