The wealth of commuting memes Pinoys come up with on a regular basis isn't just an indication of our healthy humor. More important, it reveals the sorrowful plight of our traveling 'warriors.'
Hilarity aside, is there hope? Is something being done?
We weren't sure what to expect when we visited the Land Transportation Franchising and Regulatory Board (LTFRB) office recently. One question led to another and the discussion took on a life of its own.
First off, it clarified that it's not out to make Uber, Grab, Angkas and other transportation network companies (TNCs) and their users miserable (but more on TNCs later). Right now the board has its hands full on the PUV modernization program (PUVMP), and collaborating with the Department of Transportation (DOTr) for various initiatives.
"The core program now of LTFRB, and if I may say, DOTr, in addressing the public transport needs of the country is defined in the PUVMP," said LTFRB chairman Martin Delgra III during the meeting with us and other motoring journalists. "'Yan 'yung sasabihin kong puso ng LTFRB ngayon in the next couple of years."
The board's chief clarified that the PUVMP isn't just about upgrading the PUV units to make sure they meet certain environmental and safety standards. "It's a whole new program," Delgra explained. "We're looking at consolidating franchises."
Continue reading below ↓
Recommended Videos
Having consolidated franchises would result in more efficient fleet management that supplies enough vehicles to commuters and sustains the operators' businesses. According to Delgra, when there are several PUV franchises, each one would work independently. "Tumama ka na sa boundary mo, uwi ka na sa bahay mo. And yet during peak hours, ang dami pang nag-aantay. It's a failure of system," he pointed out.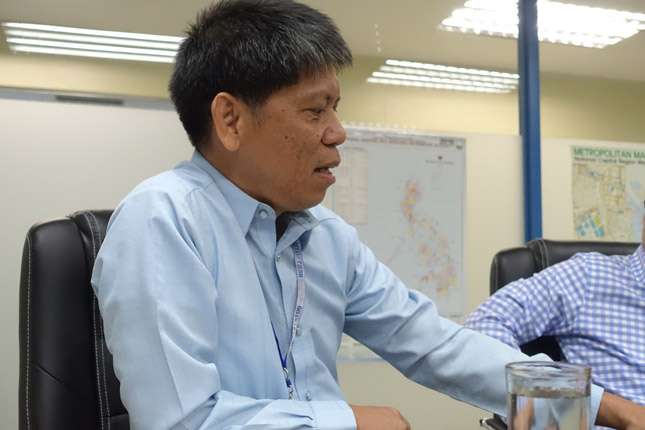 The LTFRB chief explained the advantages of having one or two operators comprising smaller operators to form a bigger group of a managed fleet. "You get to manage the route. Ibig sabihin, [operators] don't only address their financial viability. At the same time—and this is very important—they'd be able to address the needs of the commuting public," he said. "Kung consolidated 'yung prangkisa mo, spread out mo 'yung salary-based drivers mo, working hours at deployment, there's predictability of ride."
To make this possible, route rationalization will be done nationwide. Existing PUV routes will be reviewed, so shortage and surplus routes can be identified. In addition, once it is found that routes are scarce in particular areas, new or development routes should be added. "We would anticipate that there will be new routes because there are moratoriums on the franchises," Delgra explained.
For Metro Manila, route rationalization will start in the first quarter of 2018 and should be done within six months. The result will be the basis of franchise issuance. For route rationalization in the provinces, LTFRB is working with the local government units, which should have the data of where their constituents travel for work, study, or recreation. Meanwhile, DOTr takes care of the province-to-province and region-to-region assessment of PUV routes.
Delgra also shared that a public transport information management system like those in Singapore and South Korea will be in place. This system shares information about where PUVs are being deployed, so there's predictability of rides. Meanwhile, infrastructure like PUV stops is being taken care of by the DPWH.
In addition to the modernization program, social preparation is also in the plans to aid the sector transition into the new system. PUJs are said to take the biggest hit, so LTFRB is "helping them out." For those who won't work in public transportation, alternative training will be provided, according to Delgra.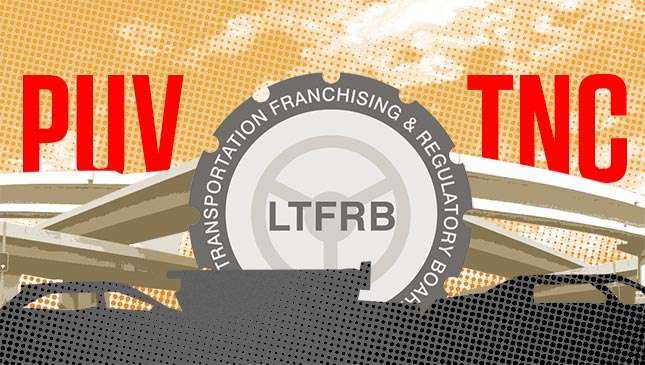 Speaking of franchises, the LTFRB is also looking at a generic franchise for TNCs. "Each TNC wants an X amount of transport network vehicle services (TNVS). Kung maraming papasok na TNC, maraming kotse ang magiging exclusive to each one. Why not come up with a common base for everyone?" LTFRB board member Aileen Lizada said. "'Yun ang pinag-aaralan ng [LTFRB]. This is generic. A vehicle may be accredited by all TNCs." She added that this may solve the problem of shortage of supply of TNVS since anyone hailing a vehicle through the common platform may get from Grab, Uber, or any TNC.
This is still in the board's, um, drawing board and requires further study, but the good news is that Uber, Grab and LTFRB are working together (The drama is over, guys). "In support of MMDA, we asked Grab and Uber, 'Are you willing to help by doing carpool using vans?' because they don't have vans yet. They were willing to do carpooling," Lizada shared.
The official stressed that TNCs are welcome. "We want them [TNC] in the system. Amin lang is cooperate," she said. And by cooperation, TNCs are required to submit data (like fare formula) so the LTFRB can understand how its system works.
"We would rather deal with Grab and Uber than with [the non-accredited ones] like Wunder who refused to be accredited—they don't have passenger insurance. We will hit hard on them [who are not accredited] to protect those who are doing businesses legitimately," Lizada said.
If all goes according to plan with the PUVMP, we wonder if demand will still be as strong for TNCs. Whether the program flourishes, the TNCs continue their domination, or both PUVs and TNCs provide better service together, the winner here, hopefully, will be the commuter. By then, commuting memes will be exclusive to the MRT and the LRT.
But that's another story.