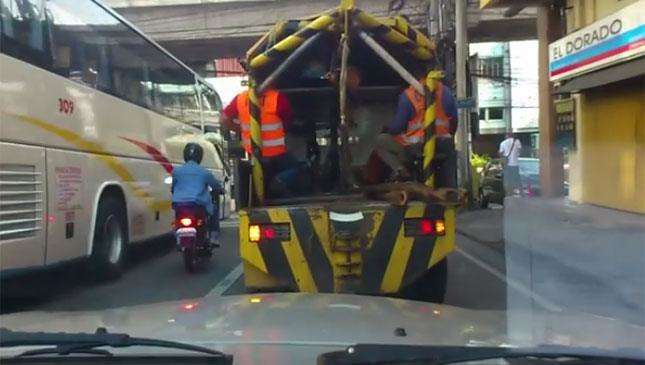 The Metropolitan Manila Development Authority (MMDA) has announced it has placed a towing company under preventive suspension, after a viral video showed it conducting operations in an unscrupulous manner.
The video, which was uploaded by motorist Roberto Minosa on Facebook yesterday, May 4, 2017, showed employees of the Compaq Towing Company allegedly performing illegal towing procedures on his vehicle. According to Minosa's video post, the tow crew proceeded to tow his car even though he was present.
Minosa says he was given two options by the crew: "Either let them tow the car, or have me ride with their driver while the car was being towed so we could 'make arrangements,'" he said. "The latter, as far as I know, is illegal," he added.
Continue reading below ↓
Recommended Videos
Still, Minosa decided to ride with the towing crew to look after his vehicle. Afterwards, he was told that the penalty would amount to P4,500. Thankfully, Minosa knew better: "So we stuck to their official rates. Reading is important, but for some people, Google is importanter."
The post and video made the rounds on social media, eventually making its way to the MMDA. The agency suspended the company's entire fleet, even encouraging Minosa to file a complaint regarding the incident. "Rest assured that the matter will be dealt with accordingly and that the agency will never tolerate unscrupulous acts from any of its organic employees and accredited/deputized personnel as well," the agency said.
Last year, several towing companies were also suspended by the MMDA for engaging in similarly illegal activities. It's nice to see that the agency hasn't let up on enforcing the rule of law on these opportunists. Keep it up.