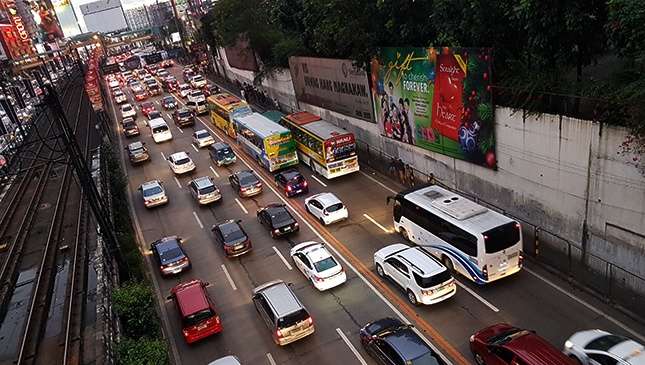 Tired of the Metro Manila's worsening traffic situation? Well, you better get used to it. The Metropolitan Manila Development Authority (MMDA) is telling motorists to expect even heavier traffic in the second half of 2018, as numerous road works and construction projects are set begin across the nation's capital city.
Among the projects set to start in July is a North Luzon Expressway (NLEX) drainage enhancement program, a new elevated guideway for Metro Rail Transit (MRT) line 7, emergency leak repair operations along EDSA and Shaw Boulevard, and the replacement of Buendia Bridge.
While the government agency acknowledged that the aforementioned operations will worsen the traffic flow in their respective areas, it says that they have to push through so as to not compromise the safety of motorists. "If there is an urgent need to do these road projects simultaneously, then we will give the necessary clearances," said MMDA general manager Jojo Garcia.
Continue reading below ↓
Recommended Videos
In light of this announcement, the MMDA says it has taken steps to try and alleviate the effects these road works will have on Metro Manila's traffic. Beginning July 15, all provincial buses will no longer be allowed "on EDSA from Pasay City until Cubao, Quezon City, both northbound and southbound, from 5 am until 10 am and from 4pm until 9pm, from Monday to Friday." These vehicles will be exempted from the Unified Vehicular Volume Reduction Program (UVVRP), and the MMDA expects the measure to reduce the number of provincial buses along EDSA by 2,000.
So again, brace yourselves. Below are details and designated alternate routes to help motorists deal with the abovementioned construction projects:
1) NLEX drainage enhancement
The NLEX drainage enhancement project will be undertaken at a portion of Balintawak Cloverleaf along A. Bonifacio Avenue Road from 11pm to 4am for 70 to 80 days. To give way for this project, the ramp of Balintawak Cloverleaf EDSA-southbound will be closed to vehicular traffic.
Motorists are advised to take the following alternate routes:
Route 1: Vehicles coming from NLEX should take Smart Connect Interchange to Mindanao Avenue to destination. Exit to EDSA Monumento-bound and make a U-Turn to EDSA Southbound.
Route 2: Vehicles coming from Monumento to A. Bonifacio Avenue should turn right to Biglang Awa Street, left at Jasmine Street, straight to 11th Avenue, turn right at A. Bonifacio Avenue to destination.
2) Elevated guideway for MRT-7
Private contractor EEI Corporation will expand their working area on North Avenue in Quezon City for the construction of an elevated guideway for the MRT-7 starting July 2.
The elevated guideway will be put up on North Avenue, from Mindanao to Veterans Hospital Gate area in the jurisdiction of Bagong Pag-asa and Project 6.
Construction will be done in two phases: from Veterans to Vertis North Gate and from Vertis North Gate of Mindanao Avenue.
3) Emergency leak repair along EDSA-Shaw Boulevard
Water concessionaire Manila Water will conduct an emergency leak repair on its large mainline on EDSA-Shaw Boulevard southbound area.
Pre-construction works will begin July 7, while construction proper will be undertaken on a 24/7 schedule starting July 14 until the next 30 days.
Vehicles turning right from EDSA to Shaw Boulevard will be diverted to Starmall premises to allow southbound buses and private vehicles to use the service road exclusively.
4) Buendia Bridge replacement
The Department of Public Works and Highways (DPWH) is also set to build a stronger Buendia bridge along Buendia Avenue. The Buendia Bridge has been found with cracks and needs immediate replacement due to poor condition.
The MMDA has yet to give clearance for the construction of the new bridge that will be done in two phases.