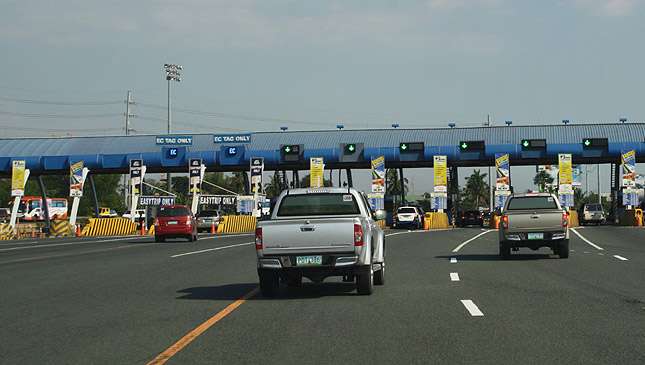 The operators of North Luzon Expressway (NLEX) and Southern Tagalog Arterial Road (STAR) Tollway will start charging higher toll rates starting today, November 6, 2017, after winning a long sought-after approval from the Toll Regulatory Board (TRB), the government agency that regulates expressways.
In a statement dated October 18, the TRB said it has approved the "Petition for Approval of Add-on Authorized Toll Rates" filed by the Manila North Tollways Corp. (MNTC), the operator of NLEX, the expressway linking Metro Manila to Central Luzon. In a separate statement also dated October 18, the regulatory agency said it approved the "Ex Parte Petition" of STAR Infrastructure Development Corp. (SIDC), which operates the STAR Tollway.
MNTC is a unit of the Metro Pacific Investments Corp., the group of companies led by businessman Manuel V. Pangilinan, while SIDC is part of the San Miguel Corp., the food and drinks group that has diversified into energy, power and infrastructure and led by Ramon S. Ang.
Both companies have been waiting for at least three years, or since September 2014, to implement toll rate hikes that should have been automatically granted based on the original terms of their toll operation agreements. The two toll road operators last implemented toll rate increases in 2011 in NLEX and STAR Tollway.
Continue reading below ↓
Recommended Videos
Vehicles passing through the entire length of the 88.4km-long NLEX, or from Balintawak in Quezon City to Sta. Ines in Pampanga (and vice versa), will pay about 8% to 9% more in toll charges, depending on the type of vehicle. Those traveling from Balintawak to the nearest exit, Valenzuela City, will pay the same rate as before.
Drivers using the entire 42km stretch of STAR Tollway, or from Sto. Tomas in Batangas to Batangas City will pay 42% to 43% more, depending on the size of their vehicles. Those merely driving from Sto. Tomas to the nearest exit, Tanauan, also in Batangas, will pay an additional 48% to 57% in toll rates, depending on the size of their vehicles.
In 2016, an average of 220,064 vehicles entered NLEX daily, grossing MNTC with revenues of P4.1 billion that year. Meanwhile, SIDC, which operates STAR Tollway, earned revenues worth P702 million in 2016, according to the annual report of its parent company, San Miguel Corp.

Elyssa Christine Lopez is a staff writer of Entrepreneur PH. Follow her on Twitter @elyssalopz
NOTE: This article first appeared on Entrepreneur.com.ph. Minor edits have been made.