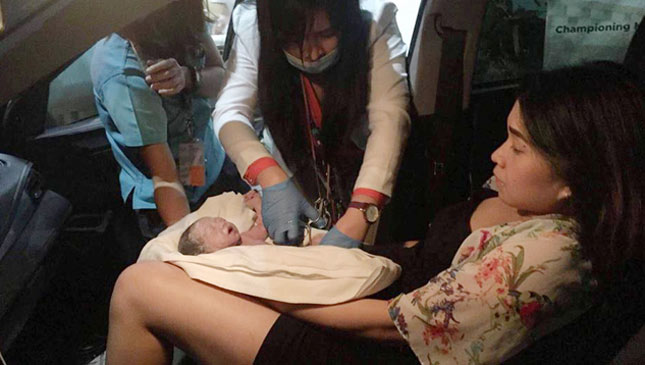 We've all joked about how awful it is to be caught in Metro Manila traffic when you need to pee badly. But being stuck in traffic when you have a medical emergency sounds like a nightmare--or an unforgettable story your kid will never tire of listening to. That's what we predict for the daughter of Cheoui de Leon, 26, and her fiance, Luis Bernabe, because she was born in the middle of EDSA traffic.

Cheoui was 36 weeks and 6 days in her pregnancy when she had her final consultation with her ob-gyn last September 1, 2018. "My due date was supposed to be on September 23, but during our appointment, I was surprised when my OB said I was already 2cm dilated," she tells SmartParenting.com.ph in an interview via Facebook Messenger. "She told me I could give birth at any time."

Cheoui had a baby shower scheduled that same day, but her doctor gave her the go signal to continue with the party. "She just told me to take it easy. She also advised me to take [evening] primrose [oil] capsules to help open up my cervix," she explains.
ADVERTISEMENT - CONTINUE READING BELOW ↓
Her doctor also reminded her, "If I feel these three things, I should rush to the hospital immediately: 1) contractions, 2) 'sipon'-like discharge with blood, and 3) if my water breaks."
Cheoui vaginally inserted three capsules of primrose as advised. By 3pm, her baby shower was underway. But three hours later, she started feeling the contractions.
"I felt the contractions for a one-to-two minute with two-to-three minute intervals for an hour," shares the now mom of two. "Nagiging gradual na 'yung pain every contraction to the point na naluluha na ako."
The feeling of pain was new because Cheoui delivered her firstborn without any pain. "With my first baby, I didn't have the contractions—my waterbag just suddenly broke. So this was a totally different experience," she explained.
She called her ob-gyn who told her to go to the hospital immediately. Cheoui said goodbye to her baby shower guests and left her home at West Crame in San Juan to get to Dr. Jesus C. Delgado Memorial Hospital in Kamuning, Quezon City at around 6:45pm. She was confident that she and Luis would make it to the hospital in 15 to 20 minutes. Her dad advised them to take EDSA to avoid heavy traffic. Unfortunately, he was wrong.
ADVERTISEMENT - CONTINUE READING BELOW ↓
Recommended Videos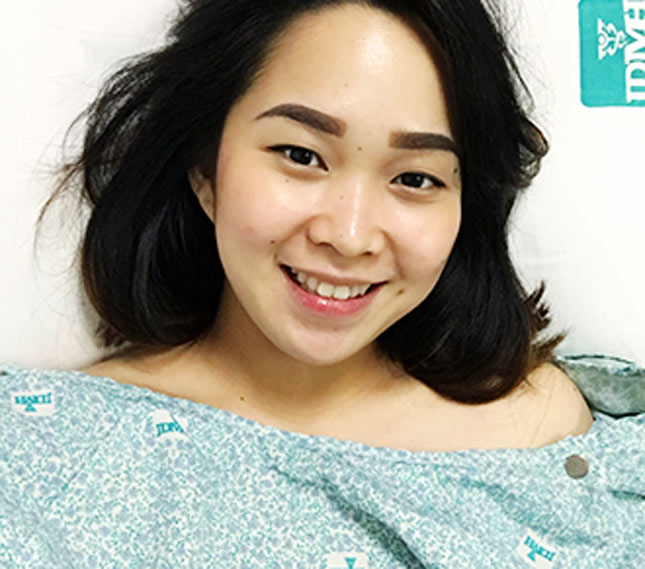 Recounting her incredible birthing story on her Facebook account, Cheoui wrote that even though Luis had turned his hazard lights on and was honking continuously, the buses and cars would not and perhaps could not let them pass because of the intense traffic.
"I was starting to shake with each intense pain! Nadudurog ko na ata ang mga buto niya [Luis] sa kamay whenever it hurt," she wrote on Facebook.
ADVERTISEMENT - CONTINUE READING BELOW ↓
When they finally made a U-turn to Kamuning, Cheoui felt the unimaginable—her baby was crowning. "My eyes went wide–I felt she was ready to come out. I shouted, 'Luis, lalabas na siya! Ayan na siya! Saluhin mo siya!'"
Cheoui was in panic mode but Luis, who (thankfully) is a nurse, was calm and composed while driving. "He said, 'deep breaths, love! Huwag ka munang umiri, malapit na tayo,'" Cheoui writes.
Luis asked Cheoui to remove her underwear to hold the baby's head. But Cheoui recalled she could not even move out of fear. Luis, while driving, managed to remove her underwear and felt the head as well. He was pleading with Cheoui to wait.
"Love, eto na yung ulo! Hawak ko na! Wait lang, lapit na talaga tayo, eto na talaga," he kept repeating.
When they finally got to the emergency room ramp, Cheoui screamed, "Love, ayan na!" Her water bag broke, and her baby slid out along with the water. "Luis was able to catch her just in time when we stopped," Cheoui writes. "I held her in my arms, and she started to cry."
ADVERTISEMENT - CONTINUE READING BELOW ↓
Cheoui was crying, too. "In my head, I thought, 'Is this even real? Did this happen just now?' I thought it only happened in movies!" she tells Smart Parenting.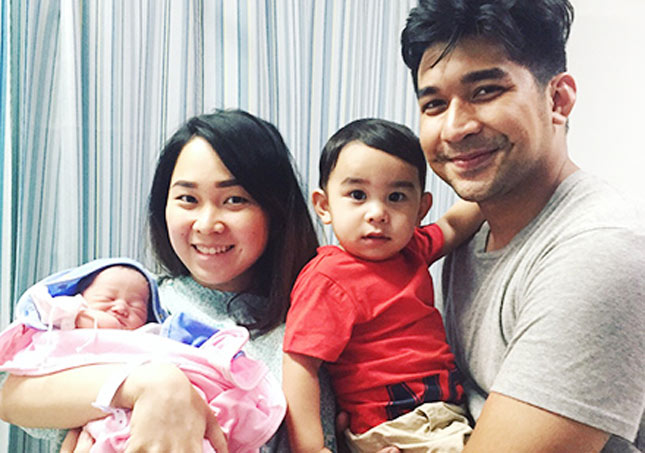 "The guy who received us [at the emergency room] was stunned when Luis asked him to call the nurse because I was already holding our baby," Cheoui recalls. "He didn't know what to do first: To assist me, get a wheelchair, or call a doctor!"
ADVERTISEMENT - CONTINUE READING BELOW ↓
A resident doctor and a nurse rushed to their aid, clamping their baby's cord and took the the trio inside immediately. Other nurses assisted Cheoui, sedated her (because she had lacerations) and prepared her for placental delivery.

When Cheoui woke up in the recovery room a couple of hours later, she was finally able to hold her baby. Sabrina Leaouis was born at around 7:30pm, weighing 4.8lbs.
It was then that Cheoui's ob-gyn revealed she was going on a two-week leave but didn't tell Cheoui yet because she didn't want her to worry. Cheoui replied, "Narinig ata ni baby girl kaya na-excite lumabas!"
Baby Sabrina needs to extend her stay in the hospital for further observation (she is taking antibiotics for an infection). But Cheoui is positive that both she and her baby will recover quickly.

Cheoui is especially thankful that her future husband managed to keep his cool. "He secured me and our baby's safety even under extreme stress and pressure. He's amazing!"

Reflecting on the nerve-racking circumstances, Cheoui advises, "Don't wait for the contractions to be unbearable before you decide to bring yourself to the labor room. In other words, don't be like me! LOL."
ADVERTISEMENT - CONTINUE READING BELOW ↓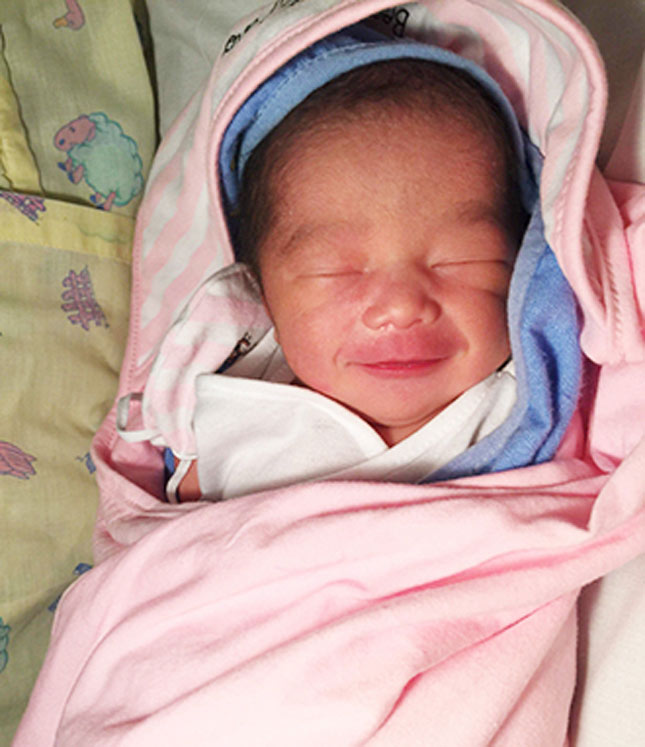 NOTE: This story originally appeared on Smartparenting.com.ph. Minor edits have been made.