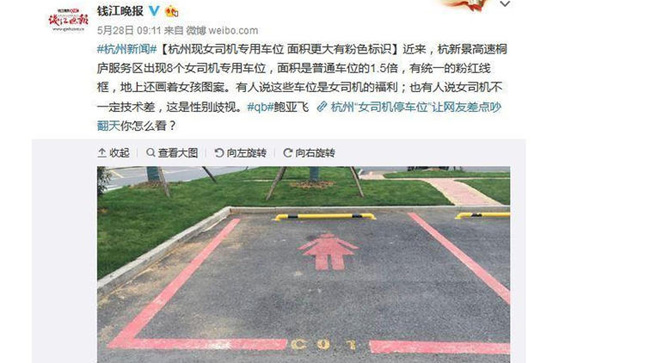 Pardon us for saying this, but many are of the opinion that female drivers are not as, er, adept as their male counterparts while behind the wheel. While we aren't generalizing, skills such as parking may require a little more practice for the fairer sex.
If you think that we're being sexist, then you may not like what a highway service in the metropolitan area of Hangzhou, China, did with its parking slots. According to a report published by the Los Angeles Times, the parking area has been offering "for women only" slots since March of this year. These spaces are distinguished from the regular ones by being 1.5 times wider, as well as having a pink frame and an icon of what appears to be a woman in a skirt.
The area's service manager, Pan Tietong, says that the for-women-only parking is specifically designed for females who are new at driving, and may need just a little bit of assistance when slotting their vehicle into a space.
Naturally, such a "service" was met with mixed reactions. A survey done on Weibo, China's own Twitter, reveals that 63.7% of 1,700 respondents think that there's nothing wrong with the female-friendly motoring service. The rest of the netizens surveyed, on the other hand, feel that it is offensive to women. Some even remarked that the spaces should be renamed to "newbie parking slots" instead. After all, this is what it is for, right? And yes, even some men have a hard time at parking.
Continue reading below ↓
Recommended Videos
Such a scheme is nothing new in China (or even in other parts of the world). A shopping center in Dalian tried it back in 2014, and was met with the same criticism. And a certain establishment here in Metro Manila offers the "for women only" arrangement to help females have an easier time parking their cars.
While we do commend the Chinese highway service for trying to ease these ladies' lives, maybe it would be better for everyone to simply rename the said slots. After all, let's not discriminate against our female drivers. What do you think?
Photo courtesy of Los Angeles Times