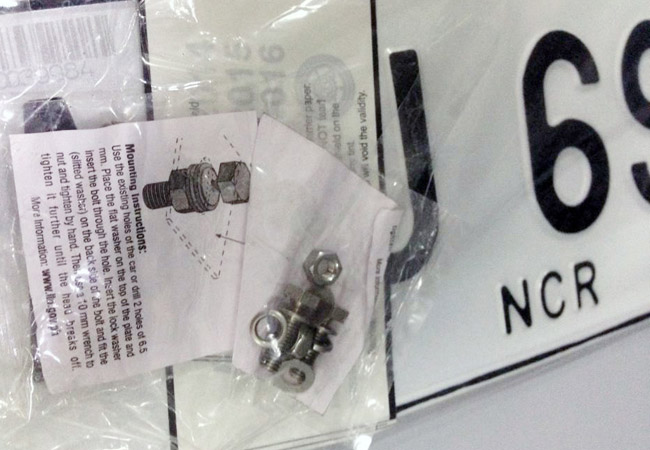 Practically every car owner in the country right now is eagerly awaiting the arrival of the new-design license plates from the Land Transportation Office. Part of everyone's curiosity involves the so-called security-bolt feature of the new plates. Reader Jerico Mercado shares with us a photo of these security bolts.
Here are the mounting instructions:
Use the existing holes of the car or drill two holes of 6.5mm. Place the flat washer on the top of the plate and insert the bolt through the hole. Insert the lock washer (slitted washer) on the back side of the bolt and fit the nut and tighten by hand. Then use a 10mm wrench to tighten it further until the head breaks off.
For sure, this now gives way to more questions. How difficult (or easy) is it to tamper with these security bolts? How long will it take before the enterprising businessmen of Banawe counterfeit these bolts? If you get into a minor accident and you simply need to have your bumper repainted, how do you go about removing and reinstalling your license plate? Does the LTO sell these bolts for such a purpose?
What do you think?
Continue reading below ↓
Recommended Videos