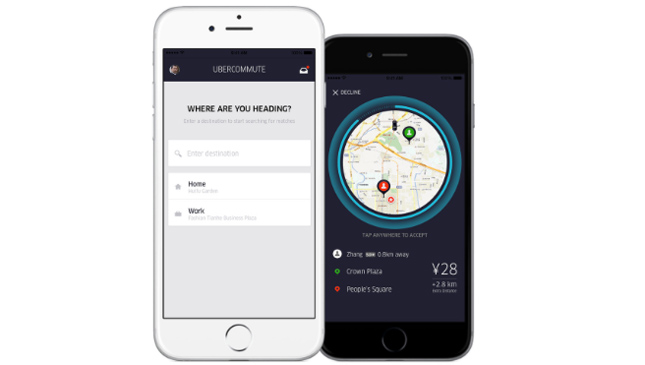 Public-utility vehicles, get ready: Uber has just launched UberCommute in Chengdu, China. The feature is just what its name says--an opportunity for car owners to carpool and make money from picking up passengers. Drivers sign into the app and state where they are going. Uber then shows them requests from riders who are traveling in the same direction, including the payment they will receive for the trip. The driver can then decide whether to accept the request and pick up passengers, or just ignore the requests.
For riders, it's Uber as usual. They simply select People's Uber+ (the Chinese UberPool service) and input their destination, and the app matches them with a driver going the same way.
So, why launch UberCommute in China? With the growing Chinese population, it is no secret that their penchant for buying their own cars has likewise grown. Innovative transport solutions like UberCommute and another Uber service, UberPool, allow the riding public to leave their cars at home and share a ride with several people who are going to the same place at the same time. The thinking behind all this is "more people in fewer cars."
ADVERTISEMENT - CONTINUE READING BELOW ↓
UberCommute and UberPool are just the start, say Uber executives. The latter, for instance, was just unveiled earlier this year in five Chinese cities: Hangzhou, Chengdu, Guangzhou, Shanghai and Shenzhen. It's essentially avoiding the usual occurrence of having dozens of people riding in their own cars while all heading to the same place at the same time. This is exactly what causes all the traffic we experience day after day. With UberPool and UberCommute, the riding public has a safe, legitimate and viable option to the usual horrendous services otherwise known as mass transport. The same people can share a ride, along with the cost of fuel, toll fees and the like.
With Uber services such as these now out in major Chinese cities, we can expect that they will find their way to our shores soon. After all, Filipino commuters seem to be looking for a safe alternative to taxicabs and other public transport systems. Only question is: Would you want to carpool with a total stranger?
ADVERTISEMENT - CONTINUE READING BELOW ↓
Recommended Videos