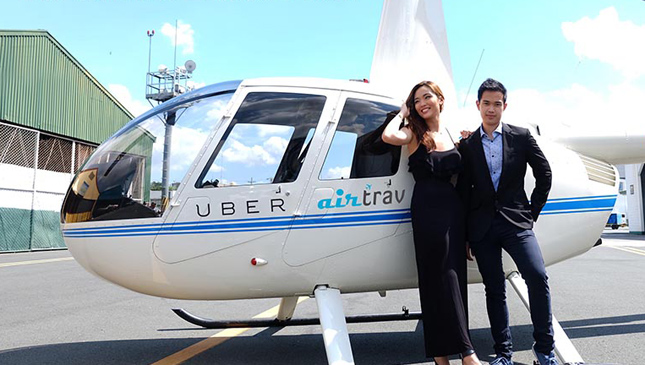 Uber is really stepping up its game. As if being able to ride in the comfiest cars around town wasn't enough, the transport network company is now giving a few lucky riders the opportunity to take flight...literally.
Uber has partnered with AirTrav to bring us the UberChopper experience this coming Saturday, November 21. Yes, you can book a helicopter for your Uber ride this weekend. Granted, you cannot request your own destination, but it's a free helicopter ride nonetheless.
All you have to do is use the Uber app between 8am and 10am this Saturday, and then select the UberChopper option. You will set your pick-up location where an Uber Black vehicle will then drive you and two of your friends to a helipad. The chopper will then fly you to a set destination where another Uber Black service will ferry you home.
The number of people looking to book an UberChopper ride will be staggering considering the traffic situation we have these days, so keep trying to book it even though you fail the first few times.
Here are some things to note if you plan on giving UberChopper a try this Saturday:
* Don't be late: Make sure you and your friends are at the pick-up location and ready to go. Your car will only pick up at one location and will wait a maximum of five minutes.
Continue reading below ↓
Recommended Videos
* Three passengers only: The promo is limited to three passengers per flight (you plus two friends).
* Free drinks: Refreshments will be provided.
* Passengers must be at least 18 years old: And they must be Filipino citizens.
* Bring valid IDs: Each passenger must bring a government-issued ID indicating date of birth.
* Service will be provided free of charge by AirTrav: Uber has no responsibility or liability for any transportation services rendered to you by third-party providers.
* Bad weather? No problem: If the weather doesn't permit, UberChopper will be rescheduled to a later date.
That's it. It's a rare opportunity to catch a bird's-eye view of our congested roads courtesy of Uber. Let's wait and see if the LTFRB comes up with a policy for flight-based ride-sharing services.