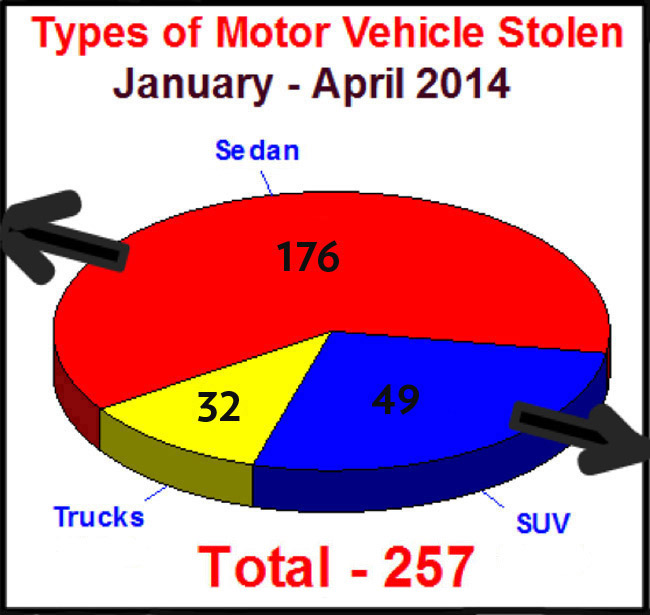 According to the latest report from the Philippine National Police's Highway Patrol Group, a total of 257 motor vehicles were reported stolen in the country from January to April this year. That's a measly figure compared to the 2,405 motorcycles reported stolen within the same period.
Now, of the 257 motor vehicles reported stolen, the HPG revealed that 176 units (68.5%) were sedans, 49 units (19.1%) were SUVs, and 32 units (12.4%) were trucks.
We wonder whether the classification of "sedans" is what it really means. Technically speaking, a sedan is defined as an "automobile for four or more people, having two or four doors." In modern times, however, "sedan" has evolved to mean a four-door car with a proper trunk, differentiating it from a hatchback or a minivan, for instance. So either there was not a single hatchback, minivan or coupe stolen in the Philippines in the first trimester of the year, or the HPG simply calls all vehicle types that are not SUVs or trucks, "sedans." Then again, there are 11 Isuzu units under "sedans," so the HPG must really be using the term to also cover other vehicle types like MPVs (the Crosswind in Isuzu's case).
As for the "trucks," we'd like to assume these include pickups.
Continue reading below ↓
Recommended Videos
Anyway, the HPG also included in the report the brands of the stolen vehicles.
176 stolen sedans (January-April 2014):
* Toyota - 77
* Mitsubishi - 54
* Honda - 13
* Hyundai - 11
* Isuzu - 11
* Nissan - 6
* Mazda - 4
49 stolen SUVs (January-April 2014):
* Toyota - 17
* Nissan - 10
* Mitsubishi - 9
* Isuzu - 9
* Hyundai - 3
* Honda - 1
The trucks were not broken down into brands.
So there. You now know which vehicle types and brands are popular among car thieves. But whatever your car is, it pays to always take extra caution out there.