Anyone who finds the current administration's performance less than satisfactory and even frustrating at some point are definitely excited to get the 2010 elections done and over with--hopefully leaving us with a new set of duly-elected leaders.
Here are some tips to remember before you head out to cast your vote on May 10.
1. Be smart. Know your destination.
Even before the Commission on Elections (Comelec) embarked on this controversial but hopefully successful automated polls, it has already been quite techie. The Comelec has a precinct finder that, well, tells a registered voter where to go to cast a vote during the election.
Click the image below to go to the Comelec's precinct finder.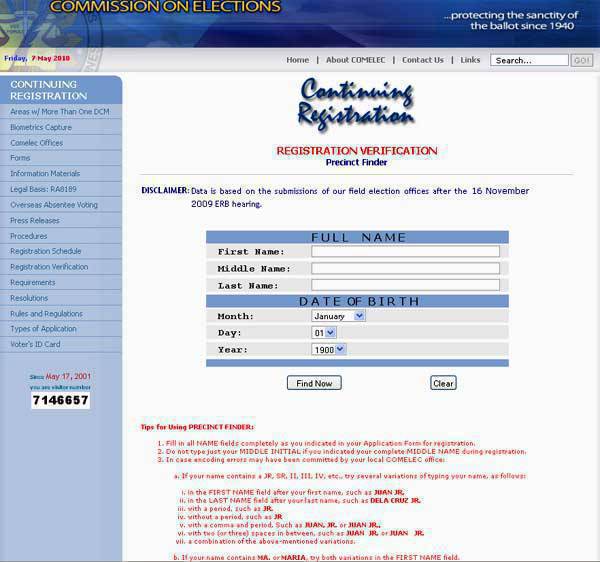 Continue reading below ↓
Recommended Videos
2. Save gas. Plan your route.
It doesn't take a rocket scientist to know that the more time you spend on the road looking for your precinct, the more fuel your car burns--assuming you're driving, of course. Take a quick tour via Google Maps to familiarize yourself with your destination.
3. Keep your cool. Park in the shade.
Some public schools are still fortunate to have enough space for trees so why not look for these areas to keep your car cool while you make a beeline towards your voting precinct.
4. Remain calm. Do not give in to road rage.
Since this is the first time Pinoys are using some hi-tech system for casting votes, the queues may be longer than usual, the waiting period may take a while, and you may run out of patience. Cool down before going back to your car as emotional baggage can easily screw up your senses. Remember that the media will be focused on politics the next few days so anyone who pulls a Jason Ivler would be lucky to make it even in the news briefs.
Remember that the voting period on May 10 is from 7 a.m. to 6 p.m. only. Go out and vote, gearheads!
Still undecided? Check out FHM Philippines' Election Cheat Sheet and An Idiot's Guide to Voting.