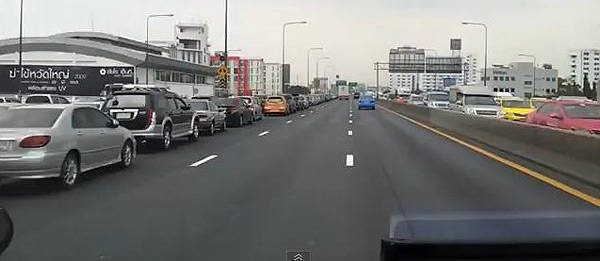 The rising floodwaters in Bangkok, Thailand, have prompted the city's residents and motorists to turn its numerous elevated expressways into parking lots.
According to BangkokPost.com, thousands of vehicles have been parked on the expressways after floodwater started to overflow into the Khlong Prapa canal. The illegal parking of the vehicles though has clogged the elevated expressways, resulting in daylong traffic.
"Please don't make the situation worse by breaching traffic laws," said one unnamed motorist. "In this time of crisis, we should leave the roads clear for flood relief operations and emergency response."
Bangkok's traffic authorities though are supposedly addressing the situation by asking motorists to move their vehicles from interchanges, expressways and flyovers and instead park on Kanchanaphisek Road or leave their vehicles with relatives in areas in Bangkok that aren't threatened by flood.
Maj. Gen. Panu Kerdlarppol, deputy chief of Bangkok police for traffic affairs, has reportedly ordered his staff to move parked vehicles from the elevated roads and clear the lanes in case Bangkok needs to be evacuated if the flood worsens. Monthian Kulthamrong, the acting governor of the Expressway Authority of Thailand, has said though that if motorists really had to park on elevated expressways, they should only use the emergency lane on the left of expressways as double-parked vehicles will be towed away to protect the flow of traffic.
Continue reading below ↓
Recommended Videos