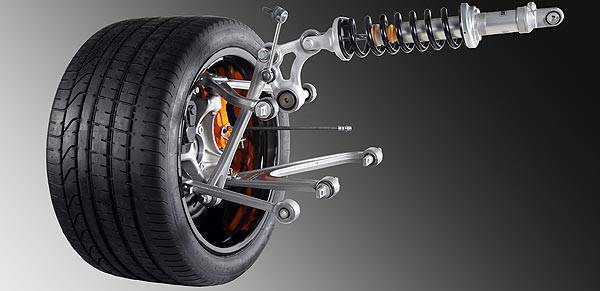 Lamborghini's successor to the Murcielago will feature an innovative and highly sophisticated suspension--a pushrod spring and damper concept inspired by Formula 1.
Paired with the car's aluminum double wishbone suspension and a carbon ceramic brake system, the pushrod spring and damper is "another element of the unique technology concept in Lamborghini's new flagship model."
Lamborghini said the most important characteristic of the new suspension is its design. The spring/damper elements are not located on the wheel mounts but on the bodyshell structure--under the windscreen in the front and close to the engine in the rear. The pushrods and relay levers/rockers then transmit the forces from the wheel mounts to the spring/damper elements.
Due to the combined double wishbone and pushrod arrangement, wheel control and damper remain separate from each other, resulting in a car that is more responsive and easier to handle at all speeds. The rigid connection to the chassis also improves the reaction of the springs and dampers, enabling the spring's stiffness to be eased a little to increase the ride's comfort while retaining its edge.
Lamborghini also revealed other features that will be found in the Murcielago's successor.
To negotiate minor obstacles, the shock absorbers on the front axle are equipped with a hydraulic lifting system, allowing the supercar's front end to be lifted by 40 millimeters with a push of a button. As expected, aluminum and carbon fiber are the most important lightweight-engineering materials on the chassis. The entire suspension system alone, including the upper and lower control arms, wheel mounts and relay levers are all made from forged aluminum alloy. The large-diameter discs, on the other hand, are made from lightweight and extremely durable carbon ceramic composite material.
Continue reading below ↓
Recommended Videos
Powering the car will be a V12 engine that produces 700hp. Combined with the car's very low vehicle weight, the Murcielago's successor will certainly eclipse its predecessor's performance figures. How fast can it possibly go?