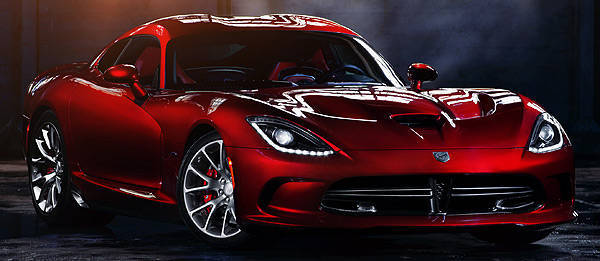 After a two-year hiatus, the Viper is back--only this time, it won't be sold under the Dodge brand. Instead, it will be marketed under the Chrysler Group's Street and Racing Technology (SRT) brand, the American carmaker's high-performance tuning arm.
"After a gut-wrenching period of uncertainty, the Street and Racing Technology brand team is extremely proud that our hand-built-in-Detroit flagship supercar is back and ready to take on the performance car world," said Ralph Gilles, president and chief executive of Street and Racing Technology. "Beyond being the flagship for the new SRT brand, the launch of the 2013 Viper proves that we simply would not let the performance icon of the Chrysler Group die. Willed to live on by a very special group of performance enthusiasts inside the company and across Viper Nation, this SRT team under our new leadership was challenged to not just continue the legendary Viper, but to create a world-class supercar that would showcase the very best we have to offer."
The all-new Viper is available in two models: the SRT Viper and the SRT Viper GTS, with the former serving as the road-going model and the latter being the street-legal, track-ready variant. According to Chrysler, both the SRT Viper and SRT Viper GTS models offer "new interior and exterior designs incorporating premium materials and new exterior surfaces with aerodynamically functional details that are beautifully integrated into the high-tech carbon fiber and aluminum skin."
Continue reading below ↓
Recommended Videos
The fifth-generation Viper has a lot of firsts for the nameplate, specifically the carbon-fiber hood, roof and decklid and the aluminum door panels--all of which result in significant weight reduction, improved high-speed stability and a slippery drag coefficient.
Like its predecessors, the SRT Viper has the same low stance and extreme cab rearward proportions that have become the unmistakable silhouette of the iconic American muscle car. The car also has the dramatic fender 'gills', another traditional Viper design cue that helps to extract heat from the engine compartment.
Propelling the Viper is the same 8.4-liter, all-aluminum V10 engine that--thanks to the use of new, ultra-high flow and lightweight composite intake manifold, high-strength forged pistons, sodium-filled exhaust valves, new catalysts and aluminum flywheel--shaved off more than 11kg from the fully dressed engine.
Putting the engine's 640hp and 813Nm of torque down to the rear wheels is a Tremec TR6060 six-speed manual transmission that has been improved with a shorter throw shifter, closer gear ratios and a shortened final drive ratio. This allows the SRT Viper models to reach its top speed through sixth gear with its maximum redline at 6,200rpm.
Providing the stopping power to the SRT Viper are four-piston Brembo brakes with fixed-aluminum calipers and vented rotors at all four corners.
[gallery]1195[gallery]