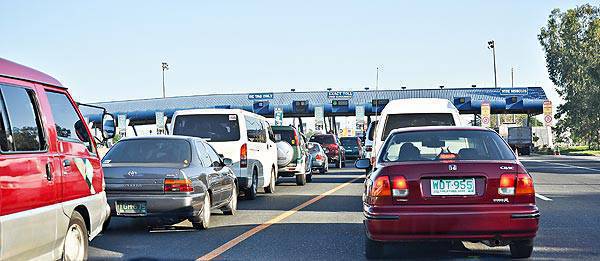 Top government officials will meet on January 6 to find ways to cushion the impact of the latest hike in toll fees on two of Luzon's major expressways.
One possible solution is the gradual implementation of the toll-fee hike, GMANews.tv reported.
Higher toll fees greeted motorists on the South Luzon Expressway (SLEX) and the North Luzon Expressway (NLEX) starting January 1.
SLEX operator South Luzon Tollway Corporation (SLTC) hiked toll fees for class 1 vehicles traveling from Alabang in Muntinlupa to Calamba in Laguna to P76, P54 higher than last year's P22 toll.
NLEX operator Manila North Tollways Corporation (MNTC) raised the toll rate for class 1 vehicles traveling from Balintawak to the Bocaue Interchange in Bulacan to P41, P5 higher than the previous toll rate. From Bocaue onwards, class 1 vehicles are charged P2.38 per kilometer. MNTC officials said, however, that the rate per kilometer is lower than the fee charged in 2005.
Toll operators said higher fees will cover expenses on the roads' maintenance and improvement.
Do you think we are being justly charged for the use of these toll roads? Share your comments below.
Continue reading below ↓
Recommended Videos