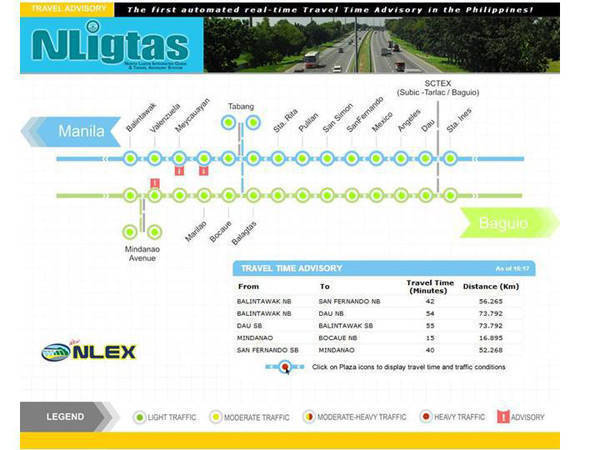 Tollways Management Corporation (TMC), the operator of the North Luzon Expressway, has launched "NLigtas," an real-time online travel advisory system that will enable motorists to monitor traffic situations along the expressway.
Available on TMC's website (www.tollways.net.ph), NLigtas is part of the company's umbrella safety program for the expressway dubbed as "Safe Trip Mo, Sagot Ko." A mobile version of NLigtas is also reportedly available for smart phones.
NLigtas covers the whole stretch of NLEX, from Balintawak to Dau and the Subic-Clark-Tarlac Expressway's Santa Ines exit. Through sensors installed at strategic points on the expressway, the NLEX control room can detect and measure the actual speed and travel conditions. These are then processed in real time by NLigtas. The system can even advise you of the estimated travel time to your specified destination, again on a real-time basis.
The traffic condition of each exit is denoted by the color used for it, with green for light traffic, yellow for moderate traffic, yellow/red for moderate to heavy traffic, and red for heavy traffic. An advisory tag is also used to inform motorists of any ongoing activities in the area, like road repair or maintenance.
"This is the first automated real-time travel advisory in the country," TMC said in a statement. "The main goal is to bring convenience to all NLEX users and make their travel this holiday break safe and hassle-free."
Continue reading below ↓
Recommended Videos
NLigtas's activation couldn't have come at a better time with the coming long weekend, don't you think so?