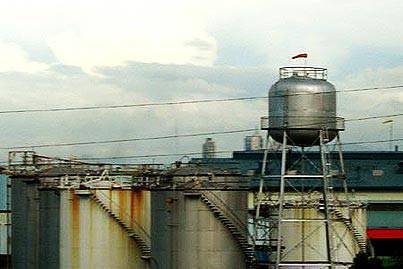 City officials of Manila have finally decided to allow the Big 3 oil companies to remain in their turf.

Manila Mayor Alfredo Lim signed Ordinance 7177, effectively allowing oil companies and other industries like Unilever to keep their operations in Manila. Lim signed the ordinance following a series of consultations with Petron Corp., Pilipinas Shell, Chevron Philippines, government agencies, business groups, and the Pandacan residents.

"In making this decision I assure you that the best interest of the people is what I have in mind. No politics involved. In the consultations that followed, I learned that this will not only involve the City of Manila but also will create a major impact in Metro Manila areas and parts of Luzon, therefore our country as a whole. A bigger effect for a greater number of individuals, starting from ordinary citizens to local and foreign businessmen/investors," Lim said.

While oil firms generally welcomed Lim's decision regarding the oil depot, Petron said it will still scale down its Pandacan operations in line with its plan to eventually move out of the area.

On the other hand, Chevron pledged to upgrade its security and safety measures to ensure the well-being of the residents near its facility.

"We intend to continue operating Pandacan safely and reliably. In the meantime, we recognize that the continuing expansion of economic activities outside of NCR, as well as, the growth of the residential area in Pandacan necessitates that at some future time, the facility will have to be moved out. Chevron will therefore continue with its current studies and plans to identify a suitable alternative site bearing the similar strategic characteristics of Pandacan," said Mark Quebral, Chevron manager for policy, government and public affairs.

Shell spokesman Roberto Kanapi said Lim's decision is a positive development for the company as it gives the oil firm a green light "to continue to ensure safe, secure and uninterrupted delivery of petroleum products."

The previous ordinance on zoning which would have forced the big industries out of the Pandacan area would have resulted in lower revenues for the city of Manila, the loss of some 10,000 jobs, and a possible increase of at least P2 per liter in oil prices as companies have to invest in new facilities elsewhere.
Continue reading below ↓
Recommended Videos