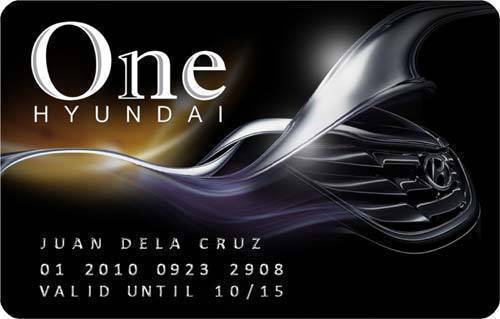 Hyundai Asia Resources, the authorized distributor of Hyundai vehicles in the Philippines, is looking to reward its loyal customers by launching the One Hyundai Club.
Billed as the first-ever distributor-based car loyalty campaign in the country, the One Hyundai Club aims to forge a strong and dedicated motoring alliance between the brand and its customers "to fulfill an enriching Hyundai lifestyle experience that reinforces Hyundai's established tradition of excellence" through various benefits.
One of the benefits a One Hyundai Club member gets are loyalty points, which are accumulated every time a member avails of genuine Hyundai parts or services at authorized dealerships. Points may also be earned for every accomplished Sales Satisfaction Index or Customer Service Index survey form.
The loyalty points may be used to redeem premium merchandise from either the One Hyundai Lifestyle Rewards Basket, which boasts collectibles from the Hyundai Brand Collection; from Lifestyle Rewards, which features exclusive items and gadgets; or from distinguished merchant partners like LuxureVille Nest Spa, Haagen Dasz, Oliver's Super Sandwiches, Bioessence, and Wendy's that offer discounts to One Hyundai members.
One Hyundai Club also partnered with Assistance Alliance International to provide its members with reliable support teams for roadside assistance like emergency towing, ambulance support, locksmith assistance and referral to authorized Hyundai dealers and service centers. Medical or travel assistance may be provided as well.
Members of the One Hyundai Club also have the privilege to own a Hyundai-Security Bank Mastercard, which makes processing transactions with authorized Hyundai dealerships easier and more rewarding--whether the customer is buying genuine Hyundai parts, availing of services or even buying a brand-new Hyundai vehicle.
One Hyundai Club members also get priority access to Hyundai events where they can meet their fellow Hyundai motorists, be privileged to see firsthand Hyundai's latest models and get an exclusive heads-up on Hyundai's special campaigns and promotions in the country.
To join the One Hyundai Club, an applicant simply has to visit the nearest authorized Hyundai dealership and fill out an application form. Applicants can also log on to www.onehyundai.com.ph to apply for membership. Once the application is processed, new members are automatically entitled to one One Hyundai Club membership card.