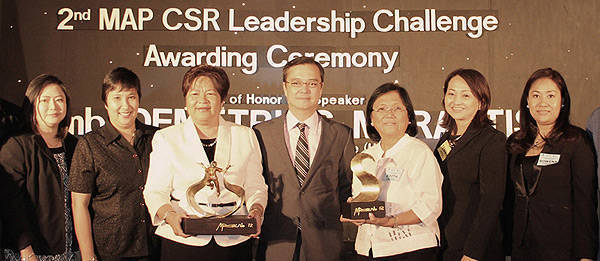 Oil giant Petron Corporation's corporate social responsibility (CSR) efforts were recently lauded by the Management Association of the Philippines (MAP) with two awards.
For the prestigious Integral CSR Award, Petron was recognized for its "Growing. Greening. Giving Back: Making CSR and sustainability a way of life in Petron" strategy while for the Best in Environment and Sustainable Development Special Award, the oil company was cited for its "Measuring, Managing and Minimizing our Environment Footprint in Bataan" program.
In winning the Integral CSR Award, the MAP recognized Petron's efforts to integrate corporate social responsibility into its overall corporate strategy as shown by the company's commitment to care for the community and the environment while achieving its economic objectives. For the Special Award for Environment and Sustainable Development, MAP noted Petron's initiatives to preserve and protect the environment and promote sustainable development in Bataan, particularly in effectively managing its water use and consumption, waste generation, greenhouse-gas accounting and air-emissions inventory as well as its leadership in implementing the Bataan Integrated Coastal Management Program.
"Our leadership in the oil industry is also fueled by our commitment to create a positive impact on every Filipino whose lives we touch on a daily basis. This means conducting our business in a manner that places equal importance on our social and environmental commitments together with our business objectives," said Petron chairman and chief executive Ramon Ang. "We see the value of CSR in enhancing our business and its role in ensuring the long-term success of our business."
Continue reading below ↓
Recommended Videos