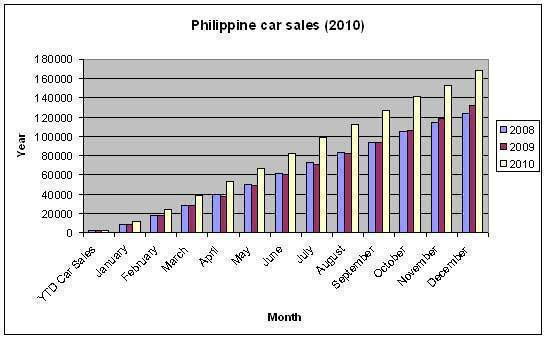 Availability of more units and better access to financing allowed the Philippine automotive industry to post a record in car sales last year, the Chamber of Automotive Manufacturers in the Philippines (CAMPI) said.
CAMPI data showed that the Philippine car industry sold 168,490 units in 2010, 27.2 percent higher than the sales it made in 2009. It also breached CAMPI's 1996 record when the industry sold 162,000 units.
Total sales in 2010 were slightly lower than CAMPI's revised target of at least 170,000 units. CAMPI opened 2010 with a sales forecast of only 137,000 units. The target was revised in August when the industry was seen ending the year with 165,000 vehicles, and in November when the 170,000-to-175,000 target was set.
Missing numbers?
It must be noted, however, that CAMPI's latest report no longer includes the sales made by Focus Ventures, Hyundai Asia Resources, The Covenant Car Co., and Scandinavian Motors. Hyundai has bolted CAMPI, and the other carmakers were also reported to have followed suit. The data also do not include the sales of Subaru vehicles as its distributor, Motor Image Pilipinas, is not a member of the industry group.
Counting sales from Hyundai, which sold 2,016 units in December, the industry would have finished the year just within the 170,000-unit mark.
Continue reading below ↓
Recommended Videos
Top finishers
Toyota is still the number one brand in the country with top-sellers like the Vios and the Innova. The Japanese carmaker sold a total of 56,855 units to corner 33.7 percent of the Philippine market in 2010.
Mitsubishi Motors Philippines ranked second with 2010 sales reaching 32,422--39.5 percent higher than its sales in 2009--with the continuous popularity of the Montero Sport and the launch of the new ASX crossover vehicle.
Even without its December figures in CAMPI's report, Hyundai still closed 2010 on the third spot. The Korean brand's total sales stood at 20,712 units with the boost coming from the Tucson, Grand Starex and Santa Fe, as well as the newly-launched Accent.
Other top-sellers in 2010 were Honda Cars Philippines with sales at 16,604; Isuzu Philippines, 10,685; Ford Group Philippines with Mazda, 9,751; Universal Motors, 6,065; Columbian Autocar, 5,566; and Suzuki Philippines, 3,735.
Sales were wild in 2010. Do you see the same fate for the car industry in 2011?
2010 ranking
Car company
January to December 2010
January to December 2009
December 2010
December 2009
1
Toyota Motor Philippines
56,855
46,193
5,623
4,900
2
Mitsubishi Motors Philippines
32,422
23,247
3,085
2,432
3
Hyundai Asia Resources
20,172
11,086
2,016
901
4
Honda Cars Philippines
16,604
17,168
1,242
1,330
5
Isuzu Philippines

10,695
9,213
1,062
1,199
6
Ford Motor Co. Philippines (+Mazda)
9,751
8,184
1,072
1,072
7
Universal Motors
6,065
5,071
453
452
8
Columbian Autocar
5,566
3,761
320
343
9
Suzuki Philippines
3,735
2,627
260
287
10
Nissan Motor Philippines
2,626
2,395
280
272
11
The Covenant Car Co.
Data unavailable
Data unavailable
Data unavailable
Data unavailable
12
CATS Motors
900
Data unavailable
63
Data unavailable
13
Pilipinas Hino
830
508
142
138
14
Asian Carmakers
664
626
42
76
15
PGA Cars
455
262
14
22
16
Scandinavian Motors

Data unavailable
Data unavailable
Data unavailable
Data unavailable
17
Focus Ventures
Data unavailable
Data unavailable
Data unavailable
Data unavailable
18
Dreamco
165
151
15
16
19
MAN Automotive
144
21
73
0
20
Columbian Motors
11
356
3
32
Source: Chamber of Automotive Industry, Truck Manufacturers Association and Hyundai Asia Resources