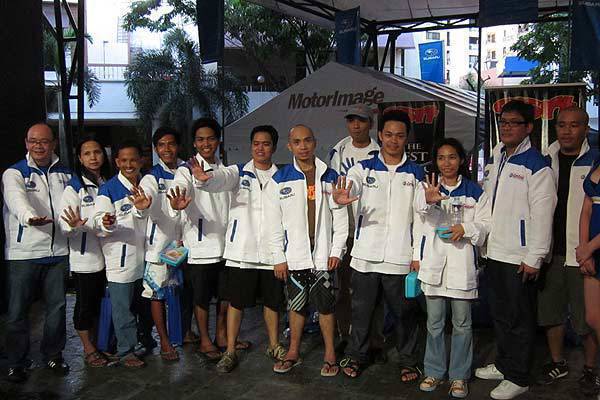 The Philippines was declared the Country Team Winner at the MediaCorp Subaru Impreza Challenge Asian Face-Off in Singapore with the last Pinoy dropping out of the race after two and a half days.
Roberto Tomas left the competition after 64 hours of keeping his palm on a Subaru Impreza, winning S$10,000 or P330,000 for the Philippine team.
Tomas was also the last man from the Philippines to quit in the 2008 Impreza Challange regional finals.
In the 2010 competition, Tomas outlasted back-to-back Philippine champion Apple Lee Joy Balibado, who was the last Filipino standing in the 2009 finals in Singapore.
The 10 Pinoy challengers toughed it out against 390 other contestants from Singapore, China, Hong Kong, Indonesia, Malaysia, Taiwan, Thailand and Vietnam.
As of 2:36 p.m., roughly 73 hours since the regional finals kicked off, only two contestants are left in the competition: Abdul Hamid Jonid and Aloysius Lim Xiang Kwan of Singapore. The last man standing, of course, will win the coveted brand-new Subaru Impreza WRX worth S$98,800 or over P3 million.
Last year, Mohammad Anuar won the car for standing 77 hours and 43 minutes with his palm on the Subaru Impreza. The record, however, is currently held by George Lee who clocked in at 81 hours and 32 minutes.
Continue reading below ↓
Recommended Videos