To say that it's not every day that we see a Lamborghini on the road is to state the obvious. So when someone posts photos of a white Lamborghini Aventador around the Coastal Road area on Facebook, expect comments to come by the dozens. We posted two such photos--one by Bryan Kenneth Peña and another by Aldrin Espora--on our Facebook page, and they were deluged with hearty remarks.
We would like to share the two photos here, as well as the best comments posted for both. See if you can top these comments.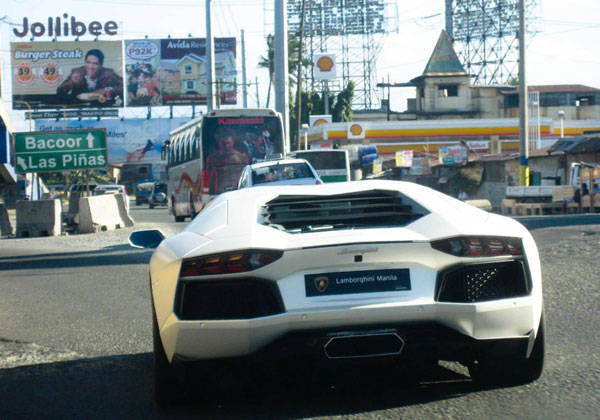 This is the photo taken by Bryan Kenneth Peña. Here are the 10 best comments:
1. Taga-Customs siguro yan... - Popoy Lachica Melendres
2. As if naman may hahabol na pulis dyan. - Erramon Legaspi
3. Kay Grace Lee yan! If you know what I mean... - Nicolo Olivier Garcia
4. Naghihirap nga talaga ang Pilipinas. - Joey Kevin Obispo
5. Mukhang nabili na yung Lambo ng Auto Trend Timog, 24,599,999 pesos. - Stephen Carlo Cuyugan
6. Takot ang carnapper dyan. Mahirap ibenta. - Delfin Miguel Jr.
7. Madami pa kong shot niyan sa page ko. That Lambo was heading to Las Piñas. Hinabol ko talaga to, makunan ko lang ng photo. Bilis!! And that rev...geez!! - Bryan Kenneth Peña
8. Las Piñas yan, where wealthy people live. - Kintaro Go
9. Turn left! Iwas sa super potholes ng Cavite. - Johnny Ong
10. Yan ang Pinoy!!! Sobrang yaman!!! Musta kaya ang tax ng auto nya? Buo kaya?? - Emorej Reyes Manzano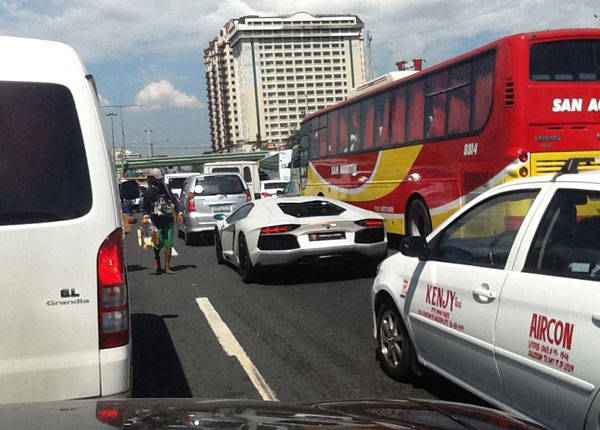 This one is by Aldrin Espora. Here are the 10 best comments:
1. Overheat ang kauuwian nito. Bawal ang supercar sa traffic. - Thurrd Salita
2. Takatak man is like, WTF?! - Paolo Mendioro
3. All that horsepower...wasted on traffic. - Erick Herrera
4. Takot yung taxi, baka magasgas. - Lordgerald Alarcon
5. Sayang ang gas. - Stephen Mallari
6. Tax pa lang nito, pwede ka na bumili ng bahay at lupa sa mga subdivision sa Cavite. - Ramon Querijero
7. And I thought I'd never say the words, "Locally purchased Lamborghini." - Rafael Nic Sta. Rita
8. Just sit back and watch the gas go down...down...down...down. - Mike Pesayco
9. Sayang kasi nasa traffic lang siya. But come to think of it: Being stuck in traffic is the best way to show it off. - Art Soriano
10. Just breathtaking. Diskumpyado yung kropek seller kung bebentahan niya. - Ken Martin