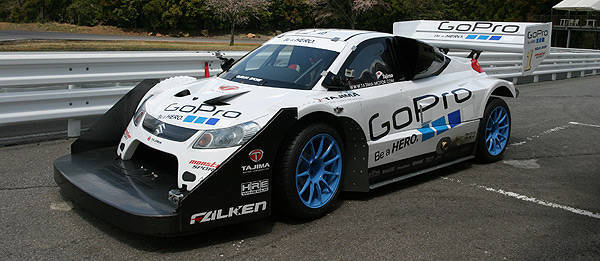 Pikes Peak International Hill Climb legend and current record holder Nobuhiro "Monster" Tajima has finally broken the race's 10-minute barrier when he drove his Monster Sport SX4 Hill Climb Special up to the summit with a time of 9 minutes and 51.278 seconds.
Tajima's record-breaking time also broke the race's course record, which he also set in the famed hillclimb race in 2007 when he was clocked at 10 minutes and 1.408 seconds.
Finishing at second place and nearly 20 seconds behind Tajima was Rhys Millen with a time of 10 minutes, 9.242 seconds.
Tajima's SX4 Hill Climb Special has a low drag, high downforce setup that was developed specifically for the race following exhaustive test as Monster Sport's wind tunnel facility. With the road having been modified to have more tarmac surfaces and less gravel, the car has undergone extensive aerodynamic changes when compared to last year's car. What powered the car to victory is a 3.1-liter Twin Turbo Monster Special V6 powerplant that boasts of an impressive 910hp.
Tajima first participated in the Pikes Peak race in 1988. Five years later, Tajima took the Unlimited class' trophy for the first time in 1993 with a second trophy coming in 1995. This year's victory makes this his sixth consecutive win in the Unlimited class.
Continue reading below ↓
Recommended Videos