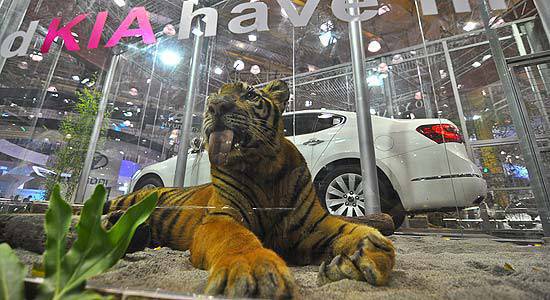 One of the most crowd-pleasing displays at the ongoing Philippine International Motor Show is that of Kia, courtesy of local distributor Columbian Autocar Corporation (CAC). At the Kia booth can be found two live adult tigers--named 'Obama' and 'Hillary'--that draw children and grown-ups alike. This, obviously, is a gimmick to highlight the identifying design element found on modern Kia vehicles today--the "tiger snout" grille, as introduced by Kia design chief Peter Schreyer. You'll see this grille design on basically all new Kia models these days, including the Soul, the Sorento, the Forte and the Sportage.
But as in any merry party, there has to be someone to temper all the fun. In this case, it's an animal-rights group, which charges that Columbian is "abusing" the tigers by caging them in the middle of the World Trade Center for everyone to ogle at. The group has even seemingly scored a small victory by discovering that Columbian doesn't currently have in its possession the necessary permits for the tiger display.
ADVERTISEMENT - CONTINUE READING BELOW ↓
But Columbian insists it has permits issued by the Department of Environment and Natural Resources as well as the Bureau of Animal Industry. "We just don't have them with us now," said CAC marketing services manager Boying Soriano. "They're with our supplier. The problem is that no one from their office can bring the permits here today. So we're asking those concerned to give us until tomorrow noontime to produce all necessary documents. What we have is the travel permit for the tigers. I mean, come on, if we were issued a travel permit by the authorities, they must have surely also approved the other relevant papers."
Soriano expressed disappointment over the complaint. "We're not abusing the tigers. They're just lying there. And people are glad to see them. If they force us to remove the animals, there won't be much of a point to our display anymore."
Some say there are motor-show visitors who complain about the growling noise that the tigers make, and still others say this could just be a tactic employed by Kia's competitors. Either way, this only shows that even on the PIMS floor, fierce rivalry exists among carmakers. Whatever the outcome of this small issue is--tigers or no tigers--the show must go on.
ADVERTISEMENT - CONTINUE READING BELOW ↓
Recommended Videos
Photo by Mikko David