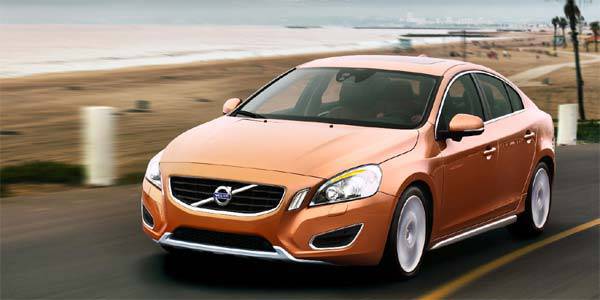 The country's authorized Volvo distributor has just unleashed the Scandinavian carmaker's sportiest and most dynamic car to date in the on-going Philippine International Motor Show: the all-new S60.
Scandinavian Motors Corp. is fielding the Volvo S60 to go up against more popular rivals like the BMW 3-Series and Mercedes-Benz C-Class. Thanks to its aggressive design that places it light years ahead of what was once Volvo's signature boxy styling, the S60 is poised to be its target market's dark horse.
The Volvo S60 is available in two variants: the Turbo (P2.895 million) and the T6 (P3.595 million).
The 2-liter Volvo S60 Turbo comes with an inline-four turbocharged mill that produces 203 horsepower and 300 Newton meters of torque. This is paired to a six-speed Powershift Geartronic transmission that lets the car reach an electronically-limited top speed of 230 kilometers per hour.
The S60 T6 has an all-wheel drive system and comes with a 3-liter V6 twin-turbo engine. This powerplant churns out 304hp and 440Nm of torque. Mated to this is a six-speed Driver-Adaptive Geartronic transmission that pushes the car to reach up to 250kph.
ADVERTISEMENT - CONTINUE READING BELOW ↓
The S60's dynamic profile stretches all the way from the greenhouse's A-pillars all the way to the tail lamps while its coupe-like roof line blends well with the muscular shoulder haunch that is now proving to be Volvo's new signature design. The S60's sculpted bonnet and short front and rear overhangs only emphasize the S60's sports car feel even further.
Inside, the S60's instruments and center stack are angled towards the driver, once more emphasizing the car's sporty aspirations while the sculpted outer rear seats give the passenger in the middle welcome side support.
As always, safety is a premium at Volvo and the S60 is the perfect example as it boasts of both its Pedestrian Detection and City Safety systems.
Pedestrian Detection senses objects in front of the car and sends a warning signal to the driver before it automatically applies full braking power at speeds of up to 35 kilometers per hour if the driver doesn't respond in time. At higher speeds, the system focuses on slowing down the car as much as possible prior to impact. City Safety, which debuted in the Volvo XC60, works in a similar fashion by automatically braking the vehicle if the driver doesn't react in time when the vehicle in front slows down or stops, or if the driver is driving too fast towards a stationary object.
ADVERTISEMENT - CONTINUE READING BELOW ↓
Recommended Videos
Check out the new Volvo S60 at the Philippine International Motor Show. The exhibit runs until August 22 at the World Trade Center.
Photo from Newspress.co.uk