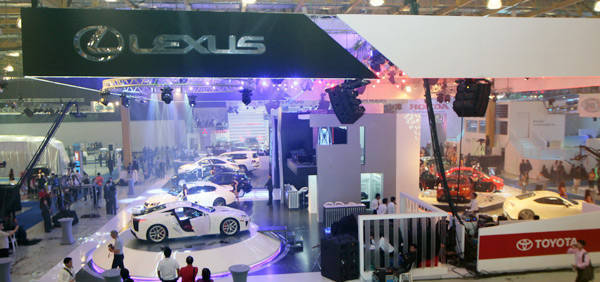 The 4th Philippine International Motor Show opened its doors today with new-car launches and teasers of things to come from the country's major automotive manufacturers and distributors.
Leading the new-car launches was the Kia Optima, which officially becomes available today at P1.48 million, and the all-new Mercedes-Benz M-Class.
As for the cars that serve as a preview of what we may or may not get in our market soon, they are:
* Honda Insight
* Honda CR-Z
* Kia K9/Quoris
* Kia Sorento (updated)
* Suzuki Swift Sport
* Mitsubishi Mirage
* Mitsubishi Outlander
* Nissan Juke
* Nissan Almera
* Nissan 370Z
* Jeep Wrangler Rubicon Unlimited 'Call of Duty' Edition
* Dodge Charger R/T Redline Concept
* Toyota 86 TRD
Of course, the current lineup of the 13 members of the Chamber of Automotive Manufacturers of the Philippines are present at the show with test-drive units available for car shoppers.
PIMS visitors who are looking for aftermarket parts and equipment can drop by the World Trade Center Tent to check out the display of the exhibitors. Activities that will be held at the show include automotive photography and scale-model exhibits, technical/garage workshops, outdoor activities such as car club meets and vehicle test drives, special auto-financing promos, and nightly entertainment shows.
Continue reading below ↓
Recommended Videos
"With the introduction of new car models, improved supply conditions, sustained consumer confidence, and the country's thriving economy, we at CAMPI are confident that the local auto industry will attain our 2022 vision for the Philippines to be a competitive manufacturing base of motor vehicles and parts, serving both the domestic and export markets," said CAMPI president Atty. Rommel Gutierrez.
PIMS 2012 will run until August 19, 9pm.
Photo by Marlon 'Taz' Dacumos