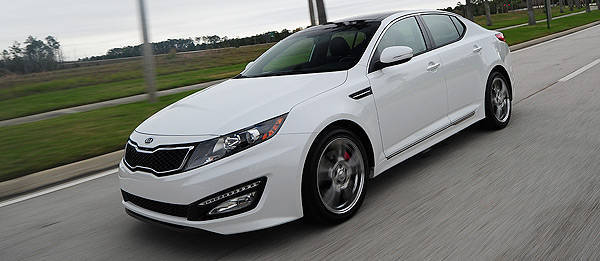 You've spotted it in the showrooms and you've probably seen a unit or two on the streets. Well, we can finally confirm it for you: The Kia Optima will soon be available officially at your nearest Kia dealership.
We checked with our sources from Columbian Autocar, Kia's authorized distributor in the Philippines, as well as with one of its top dealers in Metro Manila, and both have confirmed that the Optima will soon be launched in the Philippines. Also, the car will be launched at the 4th Philippine International Motor Show in August.
Only one variant will initially be offered: a 2.4-liter model with a six-speed, paddle-shift-equipped automatic gearbox that'll come with 18-inch alloy wheels, leather seats, dual airbags, fully automatic air-conditioning system, keyless entry, engine start/stop button, and panoramic sunroof.
We know what you're really curious to find out: How much will the Optima cost with all that kit? The answer: P1.48 million.
Are you now itching to see the car in the metal at the 2012 PIMS?
Continue reading below ↓
Recommended Videos