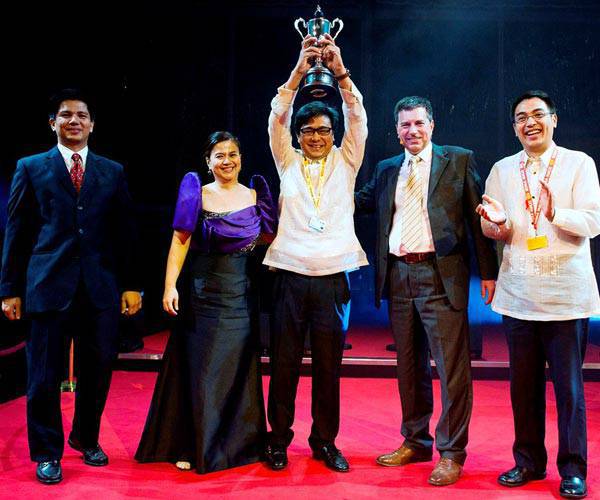 Filipino husband-and-wife team Desi and Candy Tomacruz, owners of Donica Corporation, bagged the Shell Global Multi-Site Retailer of the Year award, besting 9,500 retailers from 60 countries around the world. This recognition is part of Shell's "People Make the Difference Real" Global Awards, a program designed to encourage and motivate retailers to ensure operational excellence and deliver consistent outstanding service to millions of Shell customers worldwide.
This marks the second consecutive year that the Philippines won the award. Eva Tan of Jemsek Corporation brought home the trophy last year.
According to Shell, Desi and Candy are homegrown Shell talents. Desi moved to Pilipinas Shell in 1978 after working in a multinational fast-moving consumer goods company, while Candy started her career at Shell right after graduation in 1986.
"We met and fell in love at Shell," the couple now reminisce.
The pair applied for a Shell dealership in 1997, after both of them retired from Pilipinas Shell in the same year. After going through a battery of tests and interviews, they were awarded with their first Shell station in Santa Rosa, Laguna, in March 1998. In September of the same year, they were transferred to Metro Manila and were appointed as the dealer for a Shell service station on Dr. Abad Santos Avenue in Parañaque.
Continue reading below ↓
Recommended Videos
"We have always believed that Shell is the best brand in the oil industry based on firsthand experience on how it runs the business," relate the couple. "Business integrity, corporate social responsibility and commitment to health safety and environment are Shell's business principles that kept us with the company for so many years."
After 14 years of being in the business, Desi and Candy are still very hands-on when it comes to running their Shell stations, which now total four and employ around 120 people.
"We run the business like how we run our family," says Candy. "Desi takes care of operations and marketing, while I take care of finance and human resources."
The couple is very much involved in the recruitment and training of their staff, with both of them personally doing the interviews. "A business is only as good as the people who run it, not just on the management level, but more so at the service forefront," adds Candy. "Since we started the business, we have been hiring people with the right attitude. We get people who we think can provide motorists with a superior customer experience."
Beyond their business successes, Desi and Candy give great importance to the personal and career development of their staff, just like how parents ensure a bright future for their children. In fact, Desi was one of the retailers who conceptualized the "Gas Mo, Bukas Ko" (GMBK) program, a scholarship program aimed at helping improve the lives of scholars' families and aid in the development of communities surrounding Pilipinas Shell retail station sites. GMBK was initially offered to retail station crew with the support of Shell's retail dealers. Later on, dependents of workers in public transport were also offered GMBK scholarships.
Desi and Candy have never missed a GMBK graduation involving their staff. "It's like seeing your own children finishing school," they say. "We are very proud of all our staff who finished the program. By doing this, we look forward to a well-motivated and better-skilled staff with a deeper sense of loyalty toward the brand. More importantly, they are now more equipped to take charge of their future. We also want to build awareness among our customers about the program so they know that they are able to help uplift the lives of other people every time they gas up at Shell."
What a great romance and success story. Do you think you have it in you to grow a business with your spouse?