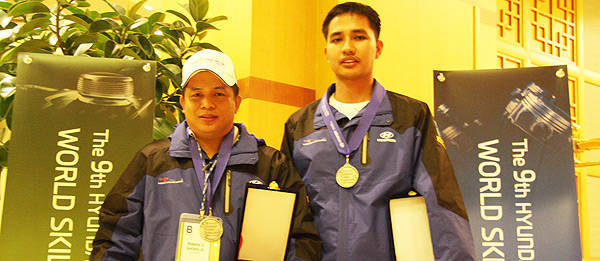 Technicians from two of Hyundai Asia Resources Inc.'s (HARI) Philippine dealerships bagged the Hyundai Excellent Skills Award at the 9th Hyundai World Skills Olympics in Korea.
Expert technicians Roberto S. Garzon Jr. and Jay G. Villa from Hyundai Shaw Boulevard and Hyundai Balintawak, respectively, topped 79 contenders from 52 Asian, American, Canadian, European, and Latin American countries by "delivering total customer satisfaction at all levels and offering nothing less than the Hyundai benchmark of service excellence--Cordial, Accurate, Reliable, and Efficient and speedy service (C.A.R.E.), or Hyundai's Best Care service approach."
"The auto industry is advancing at top speed as far as technology is concerned. In this regard, Hyundai is ever heedful of the customer's voice in delivering top-of-the-line products and services. We celebrate Mr. Garzon and Mr. Villa's victory as this once again proves that HARI is totally in step with Hyundai's stance on improving service quality and creating new values for our customers," said HARI president and chief executive Fe Perez-Agudo.
This is HARI's fourth straight win at Hyundai's prestigious biennial event after claiming the Excellent Skills Award in 2009 and 2007 and bagging the Superior Skills Award in 2005.
The first-ever Hyundai World Skills Olympics kicked off in Korea in 1995 to showcase the skills of Hyundai's best technicians the world over and promote mutual understanding between the Korean carmaker and its global network of technicians. The competition consists of a written and a practical exam where the technicians' skills and knowledge of Hyundai technology are measured according to the following criteria: trouble diagnosis method, trouble finding efficiency, and precautionary measures.
Continue reading below ↓
Recommended Videos