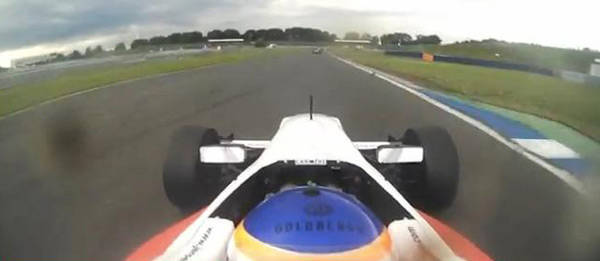 A car's steering wheel allows us to control the car. As a matter of fact, we're taught that keeping our hands at the three and nine o'clock positions allow us to control the car readily whenever an emergency situation arises. For race driver Jeroen Slaghekke, one such situation arose that saw him not only keep both his hands on the steering wheel but also detach it from his car. And he did this while racing.
The race was apparently for the Formula Renault 2.0 Northern European Cup at the Oschersleben Motorsport Arena, and Slaghekke was experiencing some interconnectivity problems between the car's electronic components and its steering wheel-mounted controls.
Literally taking matters into his own hands, Slaghekke did the equivalent of ejecting a DVD and blowing on it whenever it won't play in our DVD player. He removed the car's steering wheel just as it entered a long straight on the track. He then managed to put it back in and test if he had put it back properly by slightly jerking it left and right to see if it responded appropriately before the car entered the next turn at the end of the straight.
Can you say: "Like a boss"?
Continue reading below ↓
Recommended Videos
If you're viewing this on a mobile device and can't see the video, please click here.