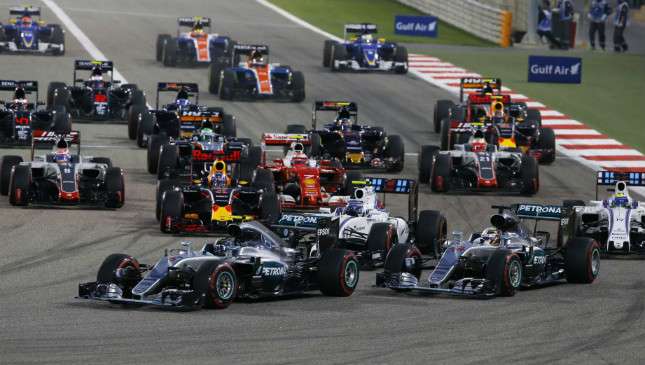 We're not sure the 2017 Formula 1 season will go down in history as being especially historic. It wasn't a non-stop, roller-coaster ride of excitement—but it certainly had its moments. And as always, it generated some amusingly large and quite surprising numbers. Here they are distilled into an easy-to-read format:
38,788
Total number of tires supplied in 2017. Of the 38,788 tires, 25,572 were slicks and 13,016 were rain or intermediates.
12,920
Total number of tires used during race weekends.
533
Total number of pit stops (of which six were drive-throughs and one was a stop and go).
26.7
Average pit stops per race. An average of 1.5 per driver in each race.
435
Total number of overtaking maneuvers during the season. That's an average of 21.8 per race.
An overtaking maneuver is counted as one that takes place during complete flying laps (so not on the opening lap) and is then maintained all the way to the lap's finish line. Position changes due to major mechanical problems or lapping/unlapping are not counted.
ADVERTISEMENT - CONTINUE READING BELOW ↓
42
Highest number of overtaking maneuvers at a race (Azerbaijan).
1
Fewest number of overtaking maneuvers at a dry race (Russia).
43
Driver with the most overtaking maneuvers during the year, Daniel Ricciardo.
13
Driver with the most overtaking maneuvers at a single race: Daniel Ricciardo (British Grand Prix).
2 hours, 3 minutes and 55.753 seconds
Longest race of the year (Azerbaijan).
1 hour, 15 minutes and 32.312 seconds
Shortest race of the year (Monza).
362.4kph
Highest speed reached during a grand prix (Sebastian Vettel in Mexico).
527
Highest number of laps led (Lewis Hamilton).
102,856km
Distance covered in races in 2017.
2.450 seconds
On average, fastest laps in 2017 were 2.450s faster than in 2016.
NOTE: This article first appeared on TopGear.com. Minor edits have been made.
ADVERTISEMENT - CONTINUE READING BELOW ↓
Recommended Videos