Last year, soon after claiming both Formula 1 drivers' and constructors' championships for the fifth consecutive season, Mercedes-AMG took a family photo of the five cars with which it has conquered the sport's turbo-hybrid era. That photo represents the very best of modern F1, and the Mercedes-AMG is now hoping to add one more to its collection of title-winning Silver Arrows as it launches its 2019 contender, the W10 EQ Power+.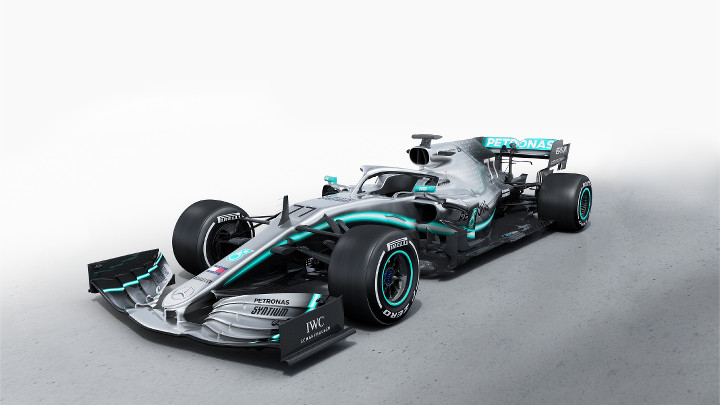 The team released these images of the W10 today, February 13, shortly before running it at Silverstone Circuit for "filming day," aka a 100km shakedown that major F1 teams conduct prior to the first preseason test, to make sure everything's in working order. The W10 features a new livery to mark several milestones in 2019: 10th season of Mercedes in F1 as a works team, 125th year of parent company Daimler in motorsports, and 85th year of the Silver Arrows.
ADVERTISEMENT - CONTINUE READING BELOW ↓
"The 2019 season will be a new challenge for all of us. The regulations have changed quite substantially. We have to start from scratch, we need to prove ourselves again—against our own expectations and against our competitors," says Toto Wolff, team principal and CEO of Mercedes-AMG Petronas Motorsport.
Simpler front and rear wings, smaller barge boards, an increased fuel allowance, and a higher minimum car weight make up the major regulation changes for 2019. In terms of appearance, the W10 bears no dramatic differences to its predecessor, though it's not really expected to emerge in full race form until the season opener in Australia next month.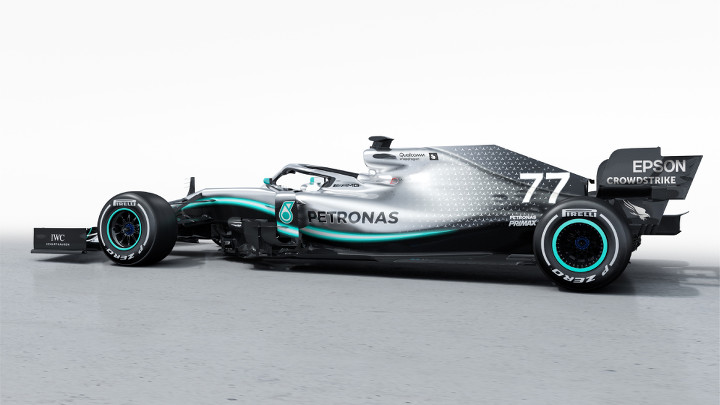 Technical director James Allison does note, however, that they've focused on the suspension and the overall aero package, "to deliver a car that will be much kinder to its tires—enough, we hope, to allow us to be competitive at all phases of the race and at each track on the calendar." Meanwhile, the 1.6-liter turbo-hybrid V6 power unit remains largely the same, save for tweaks to improve cooling, combustion efficiency, and energy recovery.
ADVERTISEMENT - CONTINUE READING BELOW ↓
Recommended Videos
For the third year running, Lewis Hamilton (#44) and Valtteri Bottas (#77) form the main driver lineup, with Esteban Ocon and Esteban Gutierrez backing them up as reserve and simulator/development drivers, respectively.
"I am excited for the new season and that everyone starts with zero points. We are all on the same line and 2019 can bring anything; I'm going to go all in this year," says Bottas. "There was quite a bit of criticism at some stages of 2018, but that's actually been a positive thing for me because it's given me an extra boost! I'm now looking forward to drive the new car for the first time. The car has changed quite a bit because of the aero regulations changes, so it will be interesting to get an idea of how the car feels and how it handles."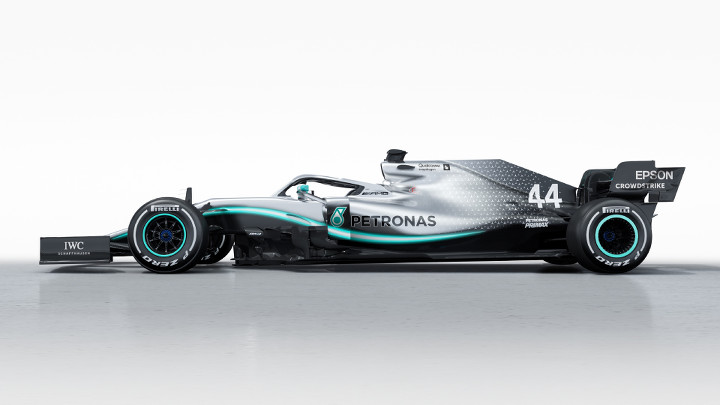 "I'm really looking forward to the next step of our journey together with Mercedes and embarking on what's not been done before," says Hamilton, who is aiming for his sixth F1 title. "This is my seventh year with the team, and the energy and the determination within the team are really inspiring."
ADVERTISEMENT - CONTINUE READING BELOW ↓
"The buzz really starts at the beginning of the year when you see the car coming together," he adds. "And then you get to the shakedown and you get into the car—it just never gets old. It feels like a real privilege—so many people have worked together to form that car and you know how much hard work has gone into it. Driving the new car is like meeting someone new for the first time—you want to get to know them the best way as quick as possible as you embark on a journey together."
Will the journey end as in previous years, with another championship?