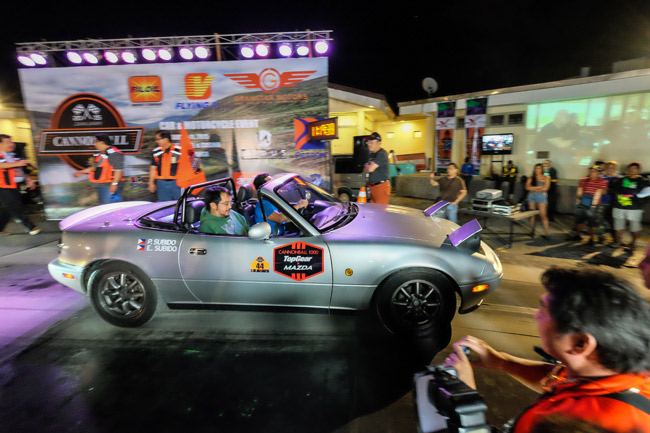 The plan to join the inaugural Cannonball 1000 started brewing when I first stumbled upon the event announcement on Facebook late last year. Completing the 1,000km Northern Luzon loop within a 24-hour time period sounded like a very enticing idea, especially as I had been looking for every excuse to get out and drive. Owning a Mazda Miata can have that effect on you. The previous owner of the car also left an event sticker for having completed the 1,200km 2013 BOSS Ironman Challenge intact under the trunk. Obviously, I wanted to put an endurance-run sticker of my own there, too.
Top Gear Philippines reports on these endurance races every so often, and to be quite honest the finishing times are very shocking. For example, how can you safely complete a 1,200km journey in 12 hours and 17 minutes without driving like a madman? That means that average speed has to be 100kph, on rural roads no less.
Please don't get me wrong. I love driving. Nothing gives me more pleasure than getting out on the open road. I live for that kind of thing. I'm not a stranger to the Baguio-Manila-Baguio route either, having been driving on it almost every month for the past 17 years. Of course, it is great to open up the throttle when the road is clear, but when an event is viewed--whether or not the organizer wants it to be--as a "race," then everything changes, doesn't it?
Continue reading below ↓
Recommended Videos
When there is a start/finish time as well as accolades for a first-place finish, you would expect the hot-headed crazies to line up at the starting line and rip across the local countryside, terrorizing every town and barangay along the route. I pity the kuliglig driver who had no idea what was approaching from behind.
But how could I possibly form a proper opinion about an endurance event without actually participating in one myself? I had to sign up for the Cannonball 1000. And since I would be driving my personal Miata, I approached Mazda Philippines and asked if they would like to field a team, with some hardy Top Gear boys I had managed to convince to join me as drivers. Mazda Philippines happily agreed to lend us a 3, a 6 and a CX-5. Photographer Mikko David brought out his shiny red Miata to join my silver one, and the Top Gear Mazda team was born. We were ready and very excited. But first I had to set some ground rules for our group:
1. No breaking the speed limits.
2. No breaking any road rules
3. No racing among ourselves or with other participants.
4. No driving like assholes.
5. Just have a great time and stop often to enjoy the scenery to take awesome photos and video.
We weren't out to break any records, but our cars--each decked out with decals and the names of driver and co-driver--looked like serious racing machines. Before the flag-off at Clark, we were even given some dodgy unsolicited advice to go against traffic on the opposite lane's shoulder to get a lead when traffic got bad. Yikes. Not our style.
While the whole Cannonball group got flagged off at 11pm, we decided to delay our take-off by three hours to wait for our video-drone pilot to arrive at Clark and for us to get a bit more sleep. We also wanted to catch some light. Documenting the trip with photo and video was a priority at this point.
Anyway, Dinzo's road trip story will be coming out in our February 2015 issue, so I will save the highlights of our drive for him to report. But here's what I learned from the epic drive:
1. It was a gentleman's event. Judging from the people that we met, the atmosphere was very friendly and accommodating. We were all adults, and I would like to think that everyone who signed up knew that being safe was a priority. Many of us had families to go home to, so risking all of that for a finisher's patch would be pretty dumb, right? But like in every public event, there might be a loose cannon here and there. For the most part, however, the participants were genuine car and motorcycle guys who just loved to get out and drive.
2. The pageantry of the event was very cool. We admit that it was neat to drive up the start/finish ramp, with its lights and banners, and be flagged off. It was probably the closest I would get to feeling like a WRC driver.
3. The cars and the motorcycles were just excellent. Do you dig classic Corvettes? Mustangs? Volkswagen Beetles? Porsches from every year? Morgan 3 Wheelers? Ferraris? Jaguars? The coolest, drool-worthy cars were present at the Cannonball 1000.
4. Luzon has beautiful roads. There are some rough patches, but for the most part, it's a driver's paradise out there. The Ilocos Norte coastline is just bliss.
5. You will become a better car owner and driver. Anything can happen in 1,000km, so you have to be prepared. We double-checked the necessary tools and spares. We made sure to get a day of rest before take-off. The varying road conditions will also teach you how to adapt your speed and driving style to the road surface and environment.
6. A trip around Luzon will expose you to different climates. The long journey will take you from the sweltering heat to the biting cold and the occasional rainshower. Keep the windows open or the top down all the way. If you drive at a steady pace, water droplets won't even enter the cockpit in a convertible.
7. Covering 1,000km is a lot of fun when you enjoy the company of your driving partner. A huge reason why I wanted to do this trip was to hang out with my younger brother.
8. Don't treat the event as a race. Not only will you be missing out on the scenery, there's a chance you might drive beyond your skill level. Think of this event as an enjoyable road trip. Drive at a steady pace and you will surely complete the trip within 24 hours. Trust us.
9. It can be dangerous if you are irresponsible. Event marshals told us that there were a few incidents involving cars and motorcycles that overshot corners. Luckily, nobody got hurt. I don't know how these isolated incidents happened, but I was glad that the Top Gear team kept to very safe speeds. So, like with everyday driving, keep smart.
10. We will do it again, for sure. All things being said, you can count on Top Gear to be back next year. It was a great experience--one that deserves to be repeated.
Photos by Mikko David