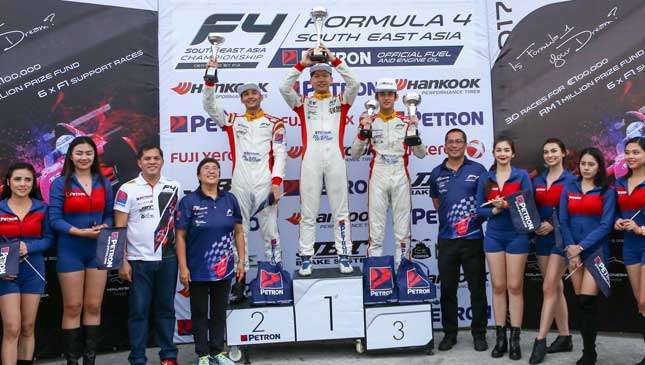 It's already an impressive feat to win a Formula 4 race when you're just 15 years old. To set a record while doing it is another thing altogether. Chinese driver Daniel Cao did just that last weekend at Clark International Speedway during the FIA Formula 4 Southeast Asia (F4 SEA) Championship.
Cao won four of the six races in the event, claiming the Event Championship title and becoming the first racer to ever do it twice in one season.
"I came into this event on a high after winning three races in Malaysia," he said. "The Clark track was a little challenging as it is counter-clockwise but I knew if I kept my head down, didn't worry about the others, and just ran my own race, I would get good results.
Continue reading below ↓
Recommended Videos
"To be honest, I'm a little surprised to have won four races. I was thinking two or three would have been good enough to win the Event Championship title."
The young man's historic win was almost derailed by 19-year-old Filipino Ben Grimes, who crashed out in the second race while he was leading. Grimes instead finished second in the event.
He said: "I made a mistake in the second race where I crashed into the wall while leading. If I had won the race, I may have pipped Coa to the Event Championship title.
"But it was a good lesson. I must learn never to panic when under pressure."
The full Event Championship results for Clark leg of the F4 SEA are as follows:
1) Daniel Cao (China)
2) Ben Grimes (Philippines)
3) Kane Shepherd (Thailand)
4) Adam Khalid (Malaysia)
5) Timothy Yeo (Malaysia)
6) Shivin Sirinarinthon (Thailand)
7) Sam Grimes (Philippines)
8) Luke Thompson (Ireland)
If you missed the action, then check out these action shots to relive the experience.