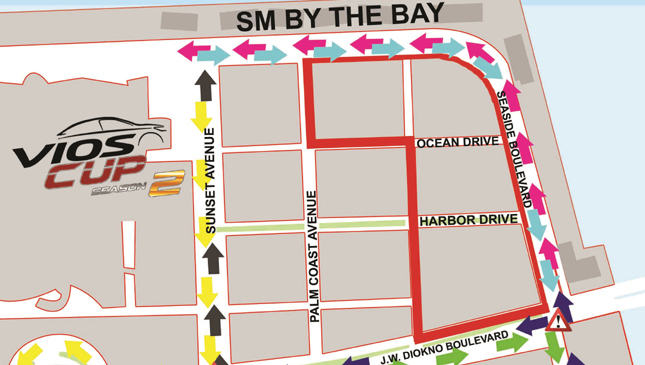 SM Mall of Asia has released updated details regarding the rerouting of traffic within the MOA territory for the upcoming Toyota Vios Cup activities on September 5 and 6 (this weekend). As per the memo, motorists should expect heavy traffic within the Mall of Asia area, especially along the corner of Sunset Avenue and Diokno Boulevard.
Half of both Seaside Boulevard and Diokno Boulevard will be closed to traffic from the corner of the westbound portion of Sunset Avenue, Block 16 up to the corner of Block 22, and Bayshore Avenue's eastbound portion in order to make way for the event.
Vehicular traffic coming in and out of the mall parking area will be diverted to Sunset Avenue, while motorists looking to enter and exit the Vikings and VIP parking areas will be rerouted through Seaside Boulevard. Only light vehicles will be permitted to pass through the Mall of Asia area to ease the flow of traffic over the weekend.
ADVERTISEMENT - CONTINUE READING BELOW ↓
Said traffic scheme will be implemented from 5am until 6pm of the affected dates. Hopefully, it will decongest traffic leading to the event area and parking. The map provided along with the memo is actually a little confusing, so we suggest that motorists keep their eyes open for traffic signs along the affected routes.
ADVERTISEMENT - CONTINUE READING BELOW ↓
Recommended Videos