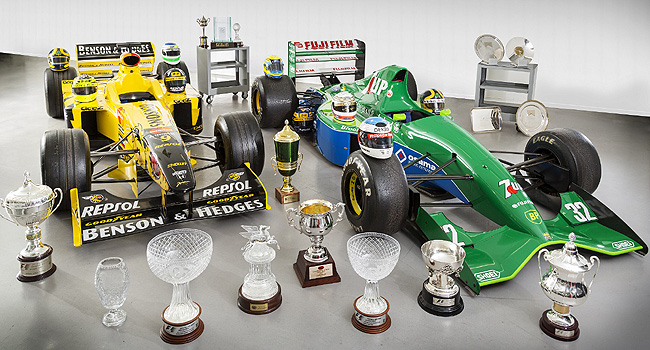 Historically significant Formula 1 cars usually go through an auction. For ex-Jordan Grand Prix team owner Eddie Jordan, he'd rather sell two of his former team's legendary cars through Cars International, with the proceeds going to the CLIC Sargent and the Amber Foundation.
"These two F1 cars were kept because of their history, the good memories and what they meant to the team," said Jordan. "But it's time to let them go, and the money will be used to good effect, helping young people and their families cope with cancer (CLIC Sargent) and getting young adults back on the straight and narrow (Amber Foundation)."
The first car is very special indeed because not only is it the first Jordan Grand Prix car ever built with chassis number 01, it was also driven by Michael Schumacher, who officially made his Formula 1 debut with the team in 1991. Designated as the Jordan 191, it was designed by Gary Anderson and comes complete with Schumacher's original helmet, signed and given to Jordan personally by the seven-time F1 champion, to express his gratitude for his first grand prix racing opportunity.
The second car on sale is the Jordan team's first race-winning car. Designed by Anderson with assistance from Mike Gascoyne, the Jordan 198 was driven to victory by Damon Hill in the 1998 Belgium Grand Prix. Besides the car, the lucky buyer will also get the constructor's trophy won on that historic day as well as Hill's race suit and helmet.
Besides the cars, Jordan is also selling from his collection 12 significant driver and constructor championship trophies, eight team driver helmets, "and a selection of other memorabilia in the collection."
So, if you're a rich F1 history buff, you might want to have one of these cars in your collection. Shoot Cars International an e-mail at info@carsinternational.com.