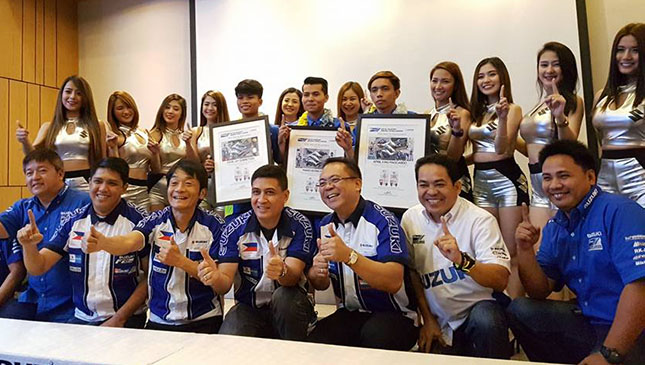 When it rains, it pours.
Suzuki Motorcycles Philippines has three reasons to celebrate this 2016. First, there is the phenomenal increase in sales volume of its motorcycle products. Second, Suzuki rider Maverick Vinales posted impressive wins in the 2016 MotoGP Season. And third, three Pinoy riders made history by winning in the recently concluded Suzuki Asian Challenge.
Hiroshi Suzuki, president of SMP, hailed the momentous victory of Team Suzuki Pilipinas riders Mario Borbon Jr., Eane Jaye Sobretodo, and April King Mascardo
"This day has come with all the achievements of Team Suzuki Pilipinas. We have heard the Philippine national anthem being played not only once, but twice in an international competition," Suzuki said in his speech during the recognition ceremony held at F1 Hotel, Bonifacio Global City, Taguig, last December 14.
"We have gathered numerous podium finishes. We have made history," Suzuki added.
Proud of his boys, Suzuki accorded Borbon, Sobretodo and Mascardo the Seal of Excellence for bringing pride and honor not only to the Japanese motorcycle company, but also to the entire nation.
ADVERTISEMENT - CONTINUE READING BELOW ↓
Not only did the Team Suzuki Pilipinas riders Sobretodo and Borbon bag the first place in two separate races in the five-round SACC event, Mascardo even became the first Filipino who took the pole position during Round 3 at the Suzuka International Circuit in Japan.
Sobretono took a first place finish in Race 1 of Round 3, while Borbon also placed first on Race 2 of Round 5 at the Chang International Circuit in Buriram, Thailand. Borbon's victory was the first for a Pinoy at the Chang race track.
When Team Suzuki Filipinas first joined the event in 2015, the team's best performance was third place for Mascardo in Round 3 at Suzuka, while Mascardo settled for seventh place and Borbon for 12th. But this year, the Philippine contingent marked a big improvement in their racing performance.
"Overall, Team Suzuki Pilipinas placed 5th, 6th, and 7th, which is a very big leap from the very first time we did this," says Roy Mojica, Suzuki Philippines managing director and treasurer. Suzuki executives said the team overachieved the target that they set for the 2016 season.
With these, Monch Bontogon, SMP marketing head, said the top Pinoy finishers will be trained by Suzuki as they will be moved up to a higher category in motorcycle racing, probable to the 600cc class.
Aside from the Seal of Excellence, the three riders were also given cash incentives by the Suzuki officials for their historic victories.
Good job guys!