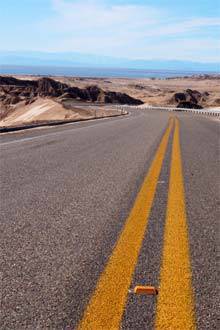 Thousands of out-of-school youth have been deployed to assist the Department of Public Works and Highways (DPWH) in the agency's road maintenance and clearing efforts in preparation for the rainy season.
"We must learn from our experience just like what happened last year when we we caught surprised by typhoon Ondoy and Pepeng," DPWH Secretary Victor Domingo said in a statement. "We must assure that during the rainy season, all national roads must be passable at all times to assure immediate response to emergency situation."
As much as 2,600 road maintenance workers under the DPWH's Out of School Youth Towards Economic Recovery (OYSTER) Program have been tapped to conduct the road works.
Priority projects of OYSTERs in Metro Manila include drainage de-clogging and road signage maintenance. These are scheduled to be completed before classes start on June 15.
In the Cordillera Administrative Region, which was also heavily damaged by last year's major typhoons, maintenance crews and heavy equipment have been deployed to respond to emergency road situations like landslides and road cuts. The Bued Bridge that was demolished by Typhoon Pepeng in Region 1 is scheduled to be completed sometime this June while the drainage clearing and asphalt patching of potholes along the Daang Maharlika and Rolando Andaya highways in the Bicol Region have been completed.
ADVERTISEMENT - CONTINUE READING BELOW ↓