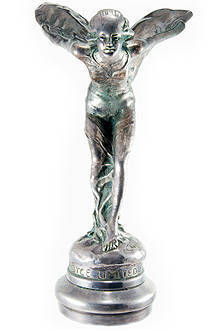 Hollywood director Martin Scorsese, together with fellow director Richard Attenborough, is set to produce a movie entitled Silver Ghost, which tells the story of motoring pioneer John Douglas-Scott Montagu, his secretary and mistress, Eleanor Velasco Thornton, and their connection with Rolls-Royce.
"When I read the story of Silver Ghost, I was mesmerized," said Scorsese. "I immediately thought: This is a picture that has to be made. And when I was asked to come aboard as a producer alongside Richard Attenborough…I didn't hesitate for a moment."
Montagu plays an important part in Rolls-Royce's history. Smitten with his mistress, Montagu commissioned sculptor Charles Sykes to design a personal mascot for his Rolls-Royce Silver Ghost using Thornton as the inspiration. At the same time, Rolls-Royce was also looking for a permanent mascot that would adorn all of its future cars. As fate would have it, the British luxury carmaker also turned to Sykes for its mascot. Sykes then slightly modified his design of Montagu's mascot to produce what came to be known as the 'Spirit of Ecstasy', which, to this day, adorns all Rolls-Royce cars.
ADVERTISEMENT - CONTINUE READING BELOW ↓
"It is a remarkable story that has long been a family secret," said Edward Montagu, son of the elder Montagu and the founder of the National Motor Museum. "I am delighted that Martin Scorsese has joined Richard Attenborough in bringing it to the screen."
ADVERTISEMENT - CONTINUE READING BELOW ↓
Recommended Videos