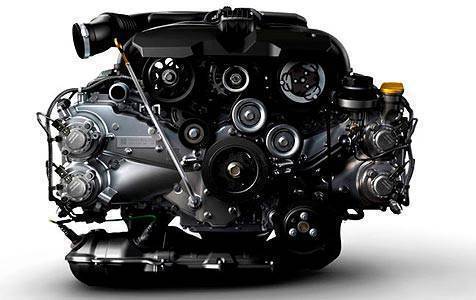 Subaru's parent company, Fuji Heavy Industries (FHI), has revealed the third-generation boxer engine 21 years after the current powerplant was mounted in the first Legacy models in 1989.
The all-new engine's bore and stroke have been increased, its intake ports have been redesigned, its lightweight moving parts like the pistons and connecting rods have been used to reduce internal friction, and a separate cooling circuitry is used for the block and head. All these changes result in lower emissions and improved fuel efficiency. These new features have also built up the advantages offered by the horizontally-opposed layout like its lightweight, compact size, low center of gravity and superior vibration balance.
Though FHI has not given any power figures, the company claims a 10 percent improvement in fuel efficiency and driving performance.
"FHI is fully committed to develop new products on the theme of integrating enjoyable and reliable driving with environmentally friendly solutions," the company statement said. "This same theme applies to this new-generation boxer engine, which will be positioned as a main engine and the starting point of its future power unit strategy."
ADVERTISEMENT - CONTINUE READING BELOW ↓