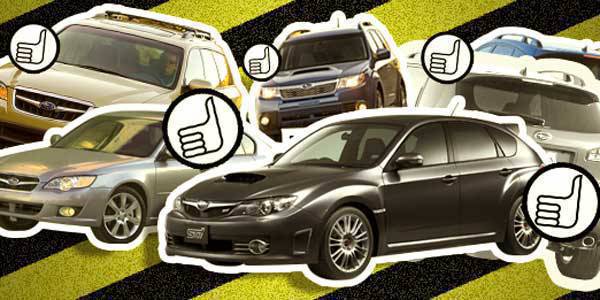 Subaru earned the distinction of being the only brand to get "good" marks in safety for all its vehicles competing in the 2010 Insurance Institute of Highway Safety Top Safety Pick awards.
The Japanese carmaker got good ratings in the midsize vehicle segment for the Subaru Legacy and the Subaru Outback, small cars segment for the Subaru Impreza (except for the WRX), the midsize sport utility vehicle (SUV) segment for the Subaru Tribeca and the small SUV segment for the Subaru Forester.
"We are extremely pleased to be the only manufacturer with all vehicles named Top Safety Pick. This is an outstanding success and a tribute to the engineering that goes into Subaru products," said Tom Doll, Subaru of America, executive vice president and chief operating officer. "To have this recognition by the IIHS reinforce to our customers that we maintain the highest standards when producing vehicles that are safe, durable, reliable as well as fun-to-drive."
Continue reading below ↓
Recommended Videos
The IIHS bases its Top Safety Picks on how vehicles protect the passengers in front, side, rear and rollover crashes. An electronic stability control is also required as it also reduces crash risks.
"With the addition of our new roof strength evaluation, our crash test results now cover all four of the most common kinds of crashes," says Institute president Adrian Lund. "Consumers can use this list to zero in on the vehicles that are on the top rung for safety."
Here is the complete list of the IIHS Top Safety Pick winners for 2010.
Large cars
Buick LaCrosse
Ford Taurus
Lincoln MKS
Volvo S80
Midsize cars
Audi A3
Chevrolet Malibu built after October 2009
Chrysler Sebring 4-door with optional electronic stability control
Dodge Avenger with optional electronic stability control
Mercedes C class
Subaru Legacy
Subaru Outback
Volkswagen Jetta sedan
Volkswagen Passat sedan
Volvo C30
Small cars
Honda Civic 4-door models (except Si) with optional electronic stability control
Kia Soul
Nissan Cube
Subaru Impreza except WRX
Volkswagen Golf 4-door
Midsize SUVs
Dodge Journey
Subaru Tribeca
Volvo XC60
Volvo XC90
Small SUVs
Honda Element
Jeep Patriot with optional side torso airbags
Subaru Forester
Volkswagen Tiguan