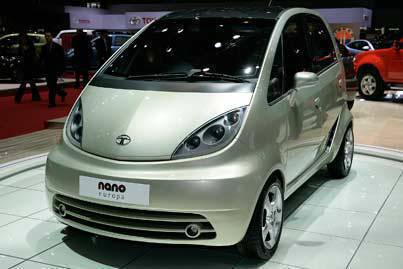 (UPDATED GALLERY)The Tata Nano, dubbed as "The People's Car" due to its affordability, will be commercially available next month following a launch in Mumbai.

Indian auto firm Tata Motors Ltd. is unveiling the Nano city car, which it claims to be the world's most affordable car at Rs100,000 (roughly US$2,000 or P95,000).

It may be recalled that Tata Motors was met with mixed responses when it announced plans to produce a car that goes for the price of a motorcycle. Critics were skeptical about the cars safety and emission elements.

When Tata Motors first unveiled the Nano concept car at the 9th Auto Expo in New Delhi in January 2008, the automaker assured the tiny car would not just meet the Bharat Stage-III emission standard, it would also meet the stringent Euro 4 standards.

The Nano is powered by a 623cc engine that packs 33hp and runs on petrol.

Tata Motors officials also said that the car has also gone through a full frontal crash test as per standard norms.

The Nano comes in three variants - the base standard, the deluxe model with body-colored bumpers, and the luxury that would come with alloy wheels and power windows.

A diesel variant is underway while other versions like an electric, a hybrid and a compressed-air powered car are also being developed.

Tata Motors is also developing the Nano Europa, which was launched at the Geneva Motor Show last month and will be commercially available by 2011.


ADVERTISEMENT - CONTINUE READING BELOW ↓