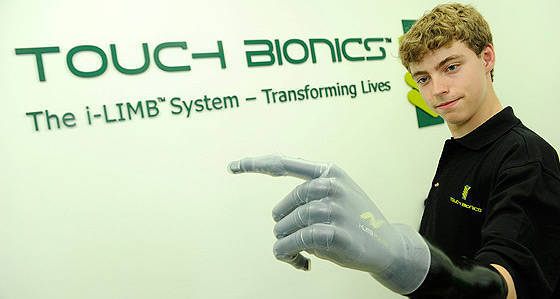 Teenager Matthew James was born without a left hand. After 14 years, he finally knows what it's like to not only have a hand but individually working fingers as well thanks to Formula 1 team, Mercedes GP Petronas.
A big fan of the motorsport, James goes to Reading School, the same school that Mercedes GP team principal Ross Brawn once attended, and still supports and visits on a regular basis. It was this association that inspired James to write Brawn a letter to explain that his prosthetic hand only allowed him to perform basic tasks with a simple open-and-close grip mechanism, and that he wanted a more functional prosthetic arm--specifically the i-LIMB Pulse developed by Touch Bionics.
According to James, the new hand would give him more control and freedom, and a much greater range of motions. The only problem, however, was that the i-LIMB Pulse is very expensive. In exchange for the arm, James offered the team to decorate it like the MGP W02 Formula 1 car--down to the complete brand sponsorship and livery.
Moved by the teenager's plight, Brawn and Mercedes GP arranged for James to be given a factory tour. A technical representative from the team contacted Touch Bionics to start initial discussions on what could be done to help the boy. Touch Bionics agreed to offer its clinical services for the fitting of James's i-LIMB Pulse free of charge in exchange for access to technology services that would benefit its research and development team.
Continue reading below ↓
Recommended Videos
"Looking closely at the i-LIMB Pulse, we realized how much our technologies in Formula 1 had in common with those used to create this cutting-edge prosthetic limb, and that we may be able to offer some synergies to Touch Bionics to assist their invaluable research," said Brawn. "Meeting Matthew, and hearing firsthand how the new device would improve his quality of life, was a pleasure and I am delighted that our initial contact has now led to such a positive conclusion."
Acording to James, his previous prosthetic arm only had two sensors located at the end and simply functioned like a claw. The i-LIMB Pulse, however, has five individual motors in each finger, allowing each finger to move individually.
"Whilst it is a open/close mechanism as well, it has different modes and settings which you can use to change the 'opening mode', so for example you can go from operating all fingers to using two and it locks the other three," explained James.