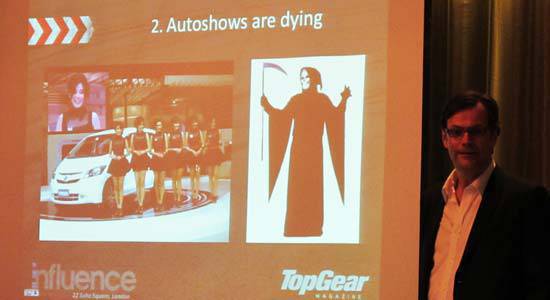 Stuart Dyble, the former public affairs vice president of Ford of Europe and Ford's now-defunct Premier Automotive Group, was the guest speaker during the Top Gear magazine conference in Hong Kong. Among the things he discussed was a set of predictions as to where he sees the global automotive industry is headed in the years to come.
Here are the more interesting bits of his fearless forecasts:
* In the next 15-20 years, the emerging markets (like China, India and Brazil) will be responsible for a whopping 90 percent of the total growth of the industry.
* Car brands that come from these emerging markets will inevitably be powerhouses in the future, including Hyundai, Kia, Tata, Chery, BYD and Geely.
* Even if electric vehicles are all the rage these days, the internal-combustion engine will still be the main form of car propulsion in the years to come.
* Niche and premium carmakers will continue to thrive.
* Auto shows will soon fade as the Internet continues to provide people around the world easy access to car news and photos.
Do you also see the above predictions happening in the near future? Do you agree with Stuart? Have your say in the comment box below.
ADVERTISEMENT - CONTINUE READING BELOW ↓