One nice thing about the Internet is that it's so much easier to share and pass along information these days. The one drawback, however, is that it's also so much harder to verify which pieces of information are true or not, especially if the source is not official. A classic example would be the current rumors surrounding the supposed arrival of a diesel-variant Chevrolet Cruze.
You see, the popular compact sedan is now only available with a 1.8-liter gasoline engine, but curious customers have been asking and speculating about the introduction of a diesel variant. Well, we just stumbled upon an advertisement on Sulit.com.ph attesting to the availability of a "Cruze DSL 2.0 CRDI" complete with an "introductory price" of P1,228,888. The ad was signed by one Marion Dominic Cordero, who is supposedly a sales consultant at GM Shaw Boulevard. The ad also had the name of one Jallen Florino, with the title "general sales manager" attached to it.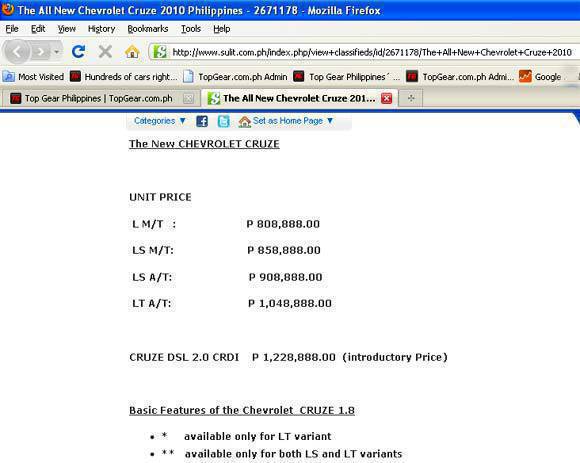 Continue reading below ↓
Recommended Videos
At first glance, the ad post seems genuine, especially when you take note that the quoted introductory price has a lot of eights in it, which is something the Chinese-owned Chevrolet Philippines (The Covenant Car Company Inc.) has been fond of doing. Naturally, car enthusiasts have been excited--some of whom have taken to posting this discovery on Facebook and various online automotive forums.
The rumor appears to be all the more true when you take into account that Chevrolet will have another Motorama event on February 19 at the Mall of Asia. One confirmed car to be officially introduced here is the Spark, but some people insist the diesel Cruze is also going to be presented here.
So what's the real score here? The best way to find out, of course, is to ask our friends from Chevrolet Philippines themselves.
Is the diesel Cruze really hitting showrooms soon? "Not yet," says Chevrolet Philippines marketing director Lyn Buena. Take note of the answer--"not yet"--which means it will definitely arrive, but at a much later time. "We're still on the planning stage," adds Buena. "I guess the sales consultant is misinformed."
Chevrolet Philippines marketing manager Bel Laureola corroborates this: "If ever we have plans of launching the Cruze diesel, it's definitely not this year. And if it does happen, the pricing is always the last bit of info to be released."
So there. We hope this puts the whole Chevrolet Cruze diesel rumor to rest.