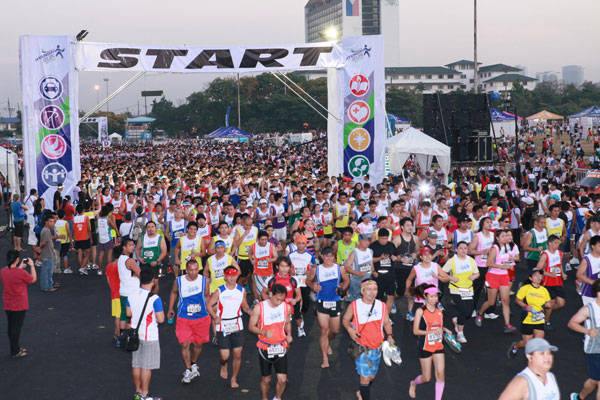 Some 26,000 people participated in Hyundai's "Run for a Cause" event yesterday, according to the Korean carmaker's local distributor, Hyundai Asia Resources. The event, Hyundai claims, is designed to "generate awareness and support for its continuing commitment to nation-building through a three-pronged advocacy: environment protection, community development and economic growth." It was held at the Quirino Grandstand in Manila.
"We decided to make this run festive and colorful to underscore Hyundai's celebration of a happier, healthier and safer life for all," said HARI president and CEO Fe Perez-Agudo.
This year, Hyundai used different colors to send its socially relevant message across:
* Green for the soon-to-rise GK-Hyundai Center for Green Innovation and HARIBON Foundation's continuing rain-forestation program;
* Pink for the protection and promotion of women's and children's rights, in partnership with the UP Women Lawyers' Circle;
* Red for empowering the students of Polytechnic University of the Philippines through scholarship grants and the donation of a customized mobile library to K.I.D.S. Foundation;
* Yellow for Filipino heritage and pride advocacy with the Department of Tourism;
* Orange for the provision of health facilities to the National Children's Hospital;
* Purple for youth development through sports, in collaboration with The Younghusband Football Academy;
Continue reading below ↓
Recommended Videos
* Gray for empowering social entrepreneurs and small-to-medium businesses through the GK Center for Social Innovation; and
* Blue for the promotion of road safety and responsible car ownership, in partnership with the Department of Transportation and Communications, in observance of the United Nations' Decade of Action for Road Safety.
Hyundai also took the opportunity to publicly launch the diminutive Eon mini hatchback, which made sense considering that most of the participants were college students.
We have to admit the photos sent to us are impressive. Our question is: Does the sea of warm bodies at the event legitimately prove that Hyundai is now really an automotive force to be reckoned with in our market?