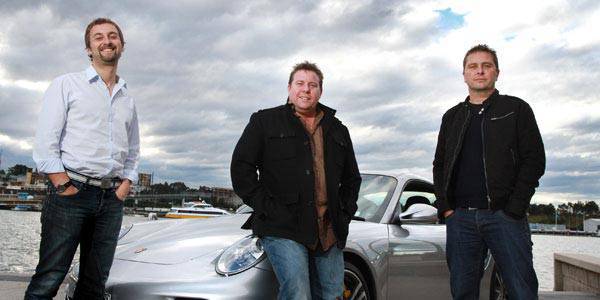 The Australian edition of the popular Top Gear TV show has been officially axed, according to The Sydney Morning Herald. The show, hosted by Steve Pizzati, Shane Jacobson and Ewen Page, had been suffering from lukewarm viewership since it first aired in September 2008. This leaves Russia, the United States and Korea as the remaining international editions of the British motoring TV show.
"After originally attracting 1.5 million viewers last season, the new series has dropped to around the 400,000 mark in the past two weeks," said the report.
We've always thought that any international edition of the Top Gear TV show is doomed even before it starts filming. Why? Well, just how do you replicate--never mind improve upon--a fun TV program that stars Jeremy Clarkson, Richard Hammond and James May? It's like putting together a Beatles cover band. Actually, this analogy is inaccurate: At least a Beatles cover band has a great chance of succeeding, because the real thing no longer exists. An international-edition Top Gear has a slim chance of doing well because the real deal is still in production--still being aired across the globe and still being shamelessly downloaded on the Internet.
Here are some of the reactions on The Sydney Morning Herald website:
Continue reading below ↓
Recommended Videos
* Top Gear Australia - worst show ever! Top Gear UK - best show ever!
* Axed for the simple reason the presenters are pathetic and lack originality.
* The show looked like a train wreck being hosted by utter morons.
* The guys hosting weren't so bad. It's just they aren't really all that up with what's going on in the automotive world.
* Copying a British show that is still running in Australia is just asking for trouble. Why would people want to watch two versions of the same show?
* Finally. It was an absolute car wreck of a show. The show and the presentors tried too hard all of the time.
* It was pretty boring. I tried to give it a go, but it was no match for the original.
* Top Gear Korea is more entertaining and I can't even understand it.
* Is anyone surprised? Australia doesn't have any cool cars compared to Europe and America.
* The Aussie show is like an amateur YouTube version of the UK success story.
Well, so much for the clamor for a Philippine edition of the TV show.